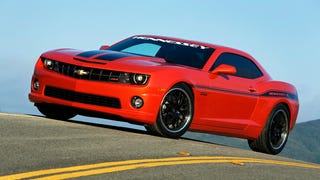 Last week brought the first test of Hennessey's newest powerhouse, the HPE550 Camaro. This week brings enough new pics and details to make even the most gentlemanly of men hoot and holler.
The power hungry folks at Hennessey Motorsport in Houston just completed their first swap of a ZR1-sourced LS9 into a 2010 Camaro, creating the HPE700 or what Chevy should call the Camaro Z28.
Houston-based Hennessey Motorsport's new supercharged, 562 HP 2010 HPE550 Camaro gets wrung out in this first test proving that the Camaro is no longer just a redneck's play thing and more a precisely-guided patriot missile.
What's better than witnessing a high-performance car getting flogged at the track? A 750 HP Hennessey ZR750 getting flogged at the track. Even better? Seeing a 750 HP Hennessey ZR750 flogged in an artsy video.
The boys at Hennessey Motorsports have been busy lately. Their latest hot rodded project comes in the form of the 2009 Hennessey V700 CTS-V, packed with a mighty 700-horsepower tuned LSA.
GM's John Heinricy retired, but hasn't disappeared just yet. He's now a consulting engineer for Hennessey and you can see him here taking the new 705-horsepower HRE ZR700 for a couple of seriously hot laps.
What's that? You think the 2009 Corvette ZR1's 638 HP could put your grandmother to sleep? Fret not, Hennessey and his Houston shop have just the thing to make your loins tingle once again.