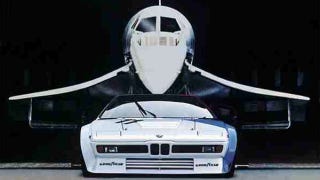 What's better from the late '70s than a Concorde and a race-spec BMW M1? Why, a Concorde, a race-spec BMW M1, and Debbie Harry. In no particular order.
The Concorde, a cruise ship, and the Red Arrows at the first Royal international Air Tattoo. The '80s were pretty crazy, weren't they? [ConcordeSST via 99op]
Continental Airlines was found guilty of involuntary homicide for the 2000 crash of an Air France Concorde jet that killed 113. [NYT]
Think back over the last decade and consider the best and worse cars to camino-ize. Right near the bottom would be the gen-II Chrysler Concorde. One company thought otherwise and poured countless hours into building the Concordepage.
The Art Deco love child of Citroën and Maserati is long gone, dead and buried like its contemporary the Concorde. But have we really lost the need for a grand tourer with speed and style in spades?
"...Mankind has grown so base, / I mean to break with the whole human race." So wrote the 17th century comedic playwright Molière, in his famous work The Misanthrope. Of course, we know for sure that there's a place for reasoned dismay in this world, and we know it because our commenters engage in such reasoned dismay…
It started out as a 1999 Chrysler Concorde LXi, which was presumably minding its own business. But the guys at DiMora Designs, part of a larger coachworks company, lured the the four-door, front-wheel-drive, five-passenger family sedan into their machinists's lair and had their way with it. The result is the JX Coupe,…