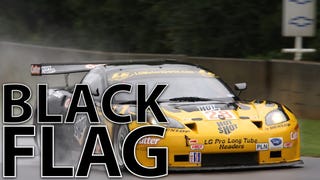 A Texas race team has sued General Motors for antitrust violations, saying it conspired with tire maker Michelin to hobble a private competitor to GM's factory-owned Corvettes in American and international road racing.
After a long, winless year in American Le Mans GT2, Corvette Racing was resigned to second place at Petit Le Mans. Until Ferrari broke down in the final lap. Wait for the sound of joy at about three minutes in.
The engine builders at Roush Yates have announced they're developing Ford's twin-turbo V6 Ecoboost to run in the 2011 American LeMans Series LMP2 class inside Lola chassis. Wait. Production-based engines being used in high-performance racing? That's unpossible. [Gas2]
(Breathless.) And you know what that means? (Hyperventilating!) I have an eBay account! (Checking bank balance...) I could totally bid on this! (No cash!) Want. (Where's a Nigerian wire-transfer offer when you need it?) [Ebay]
Falken Tires will be campaigning a 2009 Porsche 911 RSR in American LeMans this year. Before it gets all bashed up in competition, they hooked it up with some HD cameras and took it testing.
Fans of the American LeMans Series are going to be seeing a lot more Ferrari next year as Tafel Racing ditches Porsche for a pair of Ferrari F430 GT's (as seen above). According to team owner Jim Tafel, they were not pleased that they "spent the majority of the 2007 season in the rear-view mirror of the Ferrari…