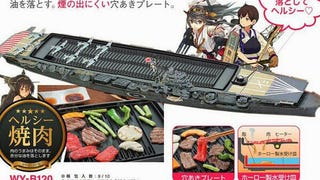 I don't know how you cook steaks, but it's wrong, because you could have cooked on this. It's based on a WWII Japanese aircraft carrier (maybe the Akagi?) that produced 160,000hp, which somehow equates to 350 degrees Celsius of cooking power, at least according to the advertisement for this insane cooking device.
What you're looking at is the deck of the U.S.S. Ronald Reagan covered in the vehicles of Navy Sailors heading to Naval Base Kitsap in Bremerton, Washington. At a cost of about $4.5 billion this is probably the world's most expensive parking lot.
To help sailors with a shift of its home base from California to Washington, the U.S.S. Nimitz aircraft carrier's hauling more than 400 private vehicles...many on its huge hangar deck. (H/t Optitrux!) Photo: Casey J. Amdahl, U.S. Navy.
This clever ABT-tuned VW GTI advertisement from Asia reminds us why turbocharged cars are so much fun once they spool up their snails. Apparently they're powerful enough to launch jets off an aircraft carrier. Whodathunkit?