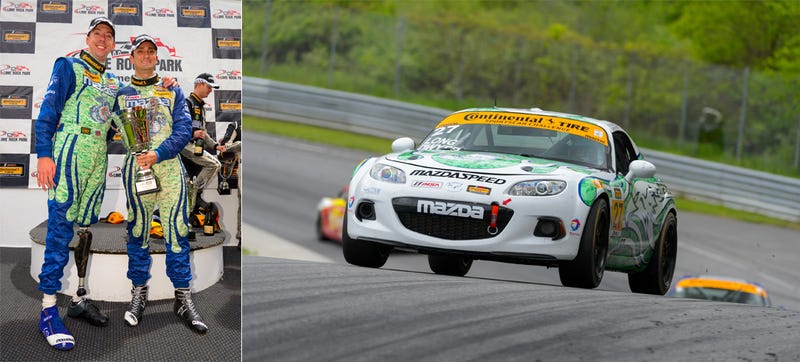 Back in October 2011, a few months after an explosive device ripped through his body and tore off his left leg, a physical therapist told Marine Staff Sgt. Liam Dwyer that he'd never drive a manual transmission car ever again.
To Dwyer — a longtime autocrosser, kart racer and track day enthusiast — the news wasn't especially welcome, even if he was down to 115 pounds and confined to an electric wheelchair at the time. So he let the therapist know he respectfully disagreed with her assessment.
"I looked at her and I said, 'Fuck you,'" Dwyer said. He went out that weekend and taught himself how to drive stick once again. He came back a few days later and confronted that same therapist.
"Don't ever tell me what I can do and what I can't do," Dwyer told Jalopnik in Washington D.C. this week. These days, Dwyer is not only driving a stick shift car, he's racing in one. And winning in it.
And he's winning races in a way that perhaps no other human being has ever done before — with his body attached to the car itself.
Dwyer races in the IMA Continental Tire SportsCar Challenge's Street Tuner class in a Mazda MX-5. Regulations won't let his Miata be outfitted with a paddle-shift gearbox, so he races with the standard manual gearbox instead. He is able to do this because his team, Freedom Autosport, worked up a special prosthesis for his left leg that connects his body directly to the car's clutch pedal.
He is, more than likely, the only person on the planet who drives with his body physically connected to a car, a kind of real-life, high-speed bionic man for the 21st century.
"It's kind of cool when you think about it," Dwyer said.
What Dwyer and his team are doing is working, too. Dwyer won in his class at the CTSC race at Lime Rock back in May. He hopes for a repeat in August at Virginia International Raceway.