Back in October 2011, a few months after an explosive device ripped through his body and tore off his left leg, a physical therapist told Marine Staff Sgt. Liam Dwyer that he'd never drive a manual transmission car ever again.
To Dwyer — a longtime autocrosser, kart racer and track day enthusiast — the news wasn't especially welcome, even if he was down to 115 pounds and confined to an electric wheelchair at the time. So he let the therapist know he respectfully disagreed with her assessment.
"I looked at her and I said, 'Fuck you,'" Dwyer said. He went out that weekend and taught himself how to drive stick once again. He came back a few days later and confronted that same therapist.
"Don't ever tell me what I can do and what I can't do," Dwyer told Jalopnik in Washington D.C. this week. These days, Dwyer is not only driving a stick shift car, he's racing in one. And winning in it.
G/O Media may get a commission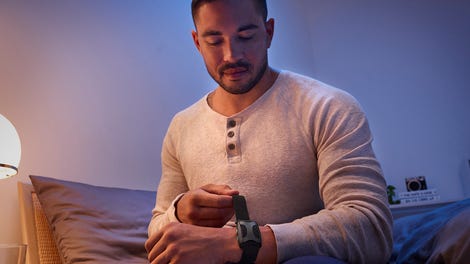 And he's winning races in a way that perhaps no other human being has ever done before — with his body attached to the car itself.
Dwyer races in the IMA Continental Tire SportsCar Challenge's Street Tuner class in a Mazda MX-5. Regulations won't let his Miata be outfitted with a paddle-shift gearbox, so he races with the standard manual gearbox instead. He is able to do this because his team, Freedom Autosport, worked up a special prosthesis for his left leg that connects his body directly to the car's clutch pedal.
He is, more than likely, the only person on the planet who drives with his body physically connected to a car, a kind of real-life, high-speed bionic man for the 21st century.
"It's kind of cool when you think about it," Dwyer said.
What Dwyer and his team are doing is working, too. Dwyer won in his class at the CTSC race at Lime Rock back in May. He hopes for a repeat in August at Virginia International Raceway.
Dwyer, 32, is a tall, gregarious, funny native of Connecticut. He joined the Marines in 2000 and fought in Iraq and Afghanistan. He raced at the amateur level in his spare time, and experimented with drifting in the RX-7 he owned while stationed in Japan.
Then in May 2011, as the turret gunner of a Humvee he fell victim to an improvised explosive device in Iraq. The resulting blast cost him his left leg above the knee and damaged his right leg and arm. Four other Marines were injured in the same explosion, according to Fox Sports.
Thus began a long rehabilitation process that continues today at Walter Reed National Military Medical Center, where Dwyer works to rebuild his strength and balance. During that time, he managed to keep up his on-track activities, racing a vintage Sprite and a Mustang, which he parlayed into a spot on Freedom Autosport's team.
Dwyer walks with a prosthetic left leg now, but not when he's in his race-prepped Miata. When he gets into his race car, he swaps out his walking leg for a special prosthesis built by the team and his prosthetist at Walter Reed. It's a piece that proves, once and for all, that race car engineering can fix anything.
Dwyer's leg piece consists of a socket connected to his leg, a long metal shaft, and a swivel joint at the end that connects to a shaft on the Miata's clutch. It also allows him to move his left leg from side to side when he's in the cockpit. Pushing the clutch in from his hip, he's able to operate the Miata's six-speed manual gearbox as anyone would.
"I can do all the complicated stuff. I can heel-and-toe downshift," Dwyer said, although that can be tricky because of the damage to his right leg. Also tricky was locating the clutch's unique engagement point — the point at which the car is no longer in neutral and it can move forward under power from the engine — without a leg to feel it.
He likens it to riding different types of bicycles. You never really forget how to do it. "A road bike may be different from a mountain bike, but it's still the same thing, only different," he said.
It's a durable piece, too, with the swivel joint at the end being an off-the-shelf Mazda suspension component. "For this to break, I'd have to do something catastrophic," he said.
But the prosthetic leg presents complications beyond just driving. There's also safety to consider, as well as driver changes; Dwyer co-pilots the Miata with team manager Tom Long.
So the team worked out three places on the prosthesis where it can be detached easily in the event of an emergency, including a button that will remove his leg from the socket. Dwyer had to prove to IMSA officials that he could get out of the car in less than 15 seconds. He did it in 13, clearing him to race in it.
When it comes time for a driver change, Dwyer pulls the cotter pin holding the leg to the clutch and one of his friends runs over, scoops him out of the car, then throws him over the pit wall as if he's a tire.
"I tell him, 'If you have to drop me, leave me,'" he said. "Don't lose any time." Evidently that worked because Freedom's pit times were no greater or less than that of other teams at Lime Rock — they were about on par with everyone else.
As far as Dwyer knows he's the only person anywhere racing with such a setup. While he concedes that racing with paddle shifters would make life a lot easier, he says it's nowhere near as impressive.
"I take immense pride in the fact that I drive a manual transmission car," he said. "I wanted that wow factor where people say, 'You're not driving with hand controls?'"
Could Freedom's design catch on with other amputees who want to drive stick? Dwyer says he hopes it will at least give some of them the courage to go out and try it.
"I wouldn't say it's something we could mass produce exactly," said co-driver Long, "but I feel like it's a fully repeatable process."
In the meantime, Dwyer and Freedom are focused on winning at VIR next month. And while he said he's a naturally private person who's having to get accustomed to being in the spotlight more and more, he's glad he can be an example of why you don't tell people what they can and can't do.
"I'm glad I can inspire others to go out and do things they thought were impossible," he said.
Photos credit Mazda, Patrick George for Jalopnik