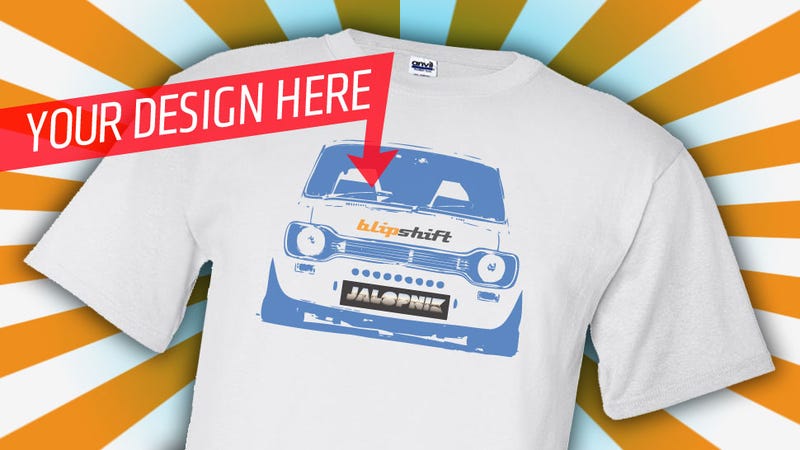 It's that time of year again where we partner with our friends at Blipshift to help you help us bring the greatest t-shirt of all time to the masses in time for Black Friday.
You've seen our two classic designs, but there's still plenty of opportunity to design the next perfect car t-shirt that everyone will want to enjoy (and that incorporates a Jalopnik logo).
The winner could get all sorts of fun prizes!
How To Enter*
We'll be looking for a design that embodies Jalopnik's weird sense of humor as well as car culture in general. While previous shirts focused in on specific memes or jokes, we're open to any great car t-shirt.
If you're an artist, submit your design and proposal in the form of a comment below with an image or images (all art must be your own creation). If you're not an artist, but have a great idea, submit it without art and if we like it we'll reach out to an artist to get the shirt drawn up. You have until November 18th, 2015 at 5:00 PM (EST) to submit your idea or design.
Make sure to check back frequently as we may be reaching out to some of you for more information.
We'll announce the winning design soon after and the shirt will then go on sale in time for you to beg your loved ones to buy ten of them for the holidays.
The Prizes
First Prize: Your design made into a Blipshift T-shirt. A one-day high performance driving/racing class at the Skip Barber Racing School courtesy of Blipshift and their friends at Skip Barber (details below). Jalopnik sticker. Free T-Shirt.
Second Place: Free T-shirt. Hilariously bad 6th Generation Camaro R/C car we bought and used in a video for our YouTube channel (coming soon)!
Third Place: Free T-Shirt. Jalopnik writer of your choice (probably Jason) records a ridiculous voice message for you.
*Contest Rules, Et Cetera
In addition to the rules listed above, all Gawker Contest Guidelines apply. The guidelines concerning submission of photos or information apply to any design submitted in this contest. Design may be altered, with consultation, to meet size and space requirements. First Prize winner must comply with all Skip Barber Racing School driver requirements in order to participate in high performance driving/racing class.