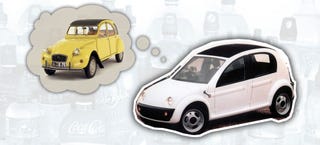 Cancelled car projects are sort of like the Ark of the Covenant — they make a huge initial impression, melt a few faces, and end up in some dusty warehouse, almost totally forgotten. Chrysler's innovative plastic developing-world car of the 1990s, the CCV, was a project like this.
The CCV project started in the late 90s at pre-Daimler-merger Chrysler, and the project was focused on developing radical new techniques in design and construction with the goal of making a very inexpensive car for developing markets. Bryan Nesbitt, the man behind the design of the PT Cruiser, was in charge of the project.
The name chosen for the project is especially telling: it technically stands for Composite Concept Vehicle, referencing the extensive use of plastic composites (recycled soda bottle plastic, even!) but those of you with advanced letter-counting skills will note that the name has two C's and a V. You could even express this as 2(C)+V, or maybe even 2CV.
Hey, wait a minute. 2CV, CCV — you don't think— oh, but I do think. The fundamental design of the Chrysler CCV was absolutely, unashamedly, based on the venerable old Citröen 2CV. The choice makes perfect sense for the goals the project had in mind: the basic 2CV design has been proven over decades to be a viable, rugged, cheap, and incredibly successful basic-transportation vehicle.