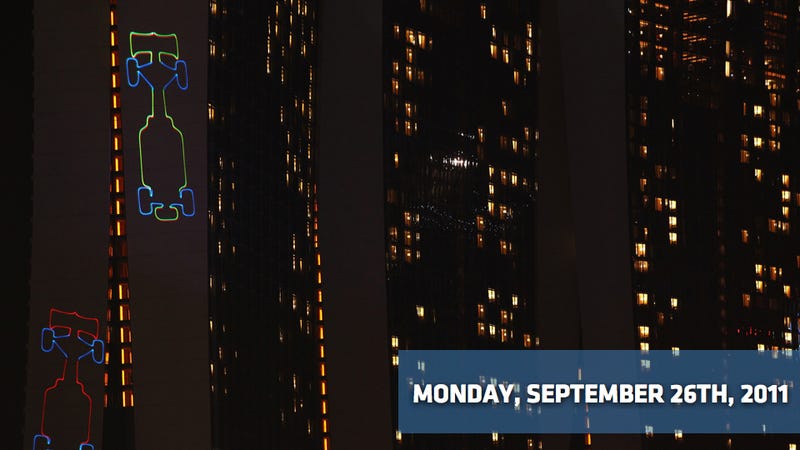 This is the Morning Shift, our one-stop daily roundup of all the auto news that's actually important — all in one place at 9:00 AM. Or, you could spend all day waiting for other sites to parcel it out to you one story at a time. Isn't your time more important?
---
1st Gear: How Foreign Automakers Finish Your Car In New Jersey
To travelers landing at Newark Liberty International Airport, the vast asphalt fields of vehicles on the ground below look like so many livestock pens. Staged in these open-air waiting rooms are thousands of cars and trucks that will shortly be hauled to dealerships up and down the Eastern Seaboard. What can't be seen from the air are the dockside finishing schools that apply the final touches to half a million vehicles that pass through each year. Here as at other seaports, dedicated facilities owned by individual automakers, as well as giant multibrand processing centers, shepherd autos arriving from overseas and ready them for buyers. More on this fascinating process at the New York Times.
---
2nd Gear: Automotive News Editor Wants Damn Blogger Kids Off His Lawn
Randomly, in the middle of a diatribe against Ford's weird and antagonistic faux press conference commercials, Automotive News executive editor Edward Lapham does his best impression of a cranky, old man, saying "But the Ford commercial makes it seems as if real reporters ask stupid, sappy questions and jump around the way a pack of dogs might beg for a treat. It is an affront to legitimate journalists, the hard-working men and women who toil selflessly in the sacred sunshine of the First Amendment to keep their fellow Americans in the know. Of course Ford isn't the only guilty party. There are a lot of bloggers impersonating reporters. For that matter, there are plenty of sports writers and travel writers — and maybe even a few auto writers — who also impersonate reporters." How ridiculous. What kind of a reporter would issue such a blanket statement? Oh, right, a bad one — maybe even an auto writer impersonating a reporter.
---
3rd Gear: UAW Talks Continue To Run Into Detours
The contract negotiations between the United Auto Workers and the three U.S. auto makers appeared at the beginning to be some of the smoothest talks in years. They have turned out to be anything but that. Almost two weeks after the current labor deal expired, workers at GM, Ford and Chrysler still don't have a new contract. "If the 2007 and the 2009 deals were about cutting costs, the 2011 deal is about sharing success while being mindful of costs, increasing flexibility and growing the ranks of the UAW membership," said Kristin Dziczek, head of the labor and industry group at the Center for Automotive Research in Ann Arbor, Mich., last week, to the Wall Street Journal.
---
4th Gear: Chrysler May Still Be In Trouble For Special L.A. Store
According to Automotive News, Chrysler still could face disciplinary action from the California Department of Motor Vehicles even though it has found a prospective buyer for its factory-owned Motor Village LA store in downtown Los Angeles.
---
5th Gear: Lincoln To Replace Waterfall Grille With Next New Disposable Design
According to sources familiar with plans for the updated Lincoln MKS sedan and MKT crossover coming next spring, Lincoln's waterfall grille — first shown with the Lincoln MKR concept at the 2007 Detroit Auto Show — is on the way out. In its place, Ford's I'm-not-Ford brand will instead provide another disposable design language with no connection to its brand heritage. But fear not, I'm fairly certain another design strategy will be unveiled three-to-four years from now.