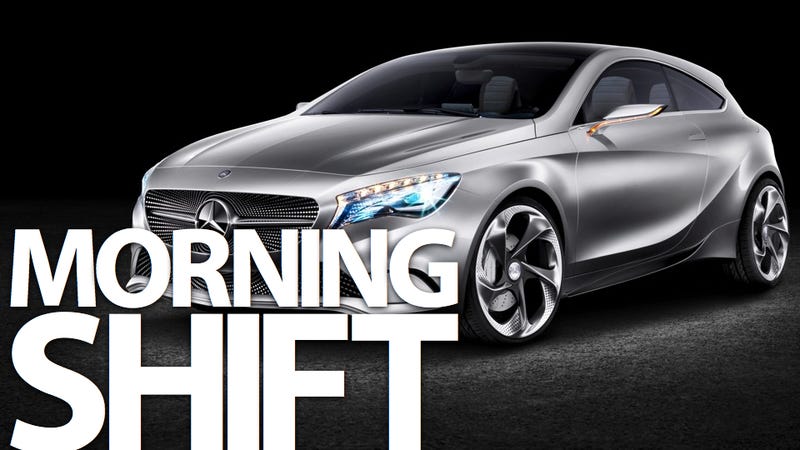 This is the Morning Shift, our one-stop daily roundup of all the auto news that's actually important — all in one place at 9:00 AM. Or, you could spend all day waiting for other sites to parse it out to you one story at a time. Isn't your time more important?
---
1st Gear: The Mercedes-Benz A-Class Concept will make its debut at both the 2011 New York and Shanghai Auto Shows later this month. The front-wheel drive A-Class concept is the production-intent preview of Mercedes-Benz's new compact class. Technical highlights include a new turbocharged four-cylinder gasoline engine, a dual clutch transmission and a radar-based collision warning system with adaptive Brake Assist. Just like Dr. Z. likes it... we're nonplussed until we see an AMG 63 version. Then we'll get excited.
---
2nd Gear: Saab Automobile, the Swedish carmaker owned by Spyker Cars NV, said it has told factory workers to stay home today and tomorrow as production continues to be halted amid discussions with suppliers over payment and delivery terms. "We're very optimistic production will resume early next week," Saab spokesman Eric Geers said today to Bloomberg's Ola Kinnander by telephone. According to Geers, Saab's looking for short-term funding to boost its cash reserves so it can pay suppliers and is in talks with "several" potential investors (i.e., Vladimir Antonov) about more long-term funding solutions. Does anyone else think that this is just Vladimir Antonov playing chicken with the Swedish-based European Investment Bank so he can take over Saab? I think so. By the way, this comes the same day that Spyker Cars NV is about to submit a proposal to its board to change its name to Swedish Automobile NV.
---
3rd Gear: Speaking of Sweden, Arjeplog, Sweden has become the winter Death Valley for auto engineers looking to test new models in this remote location 60 kilometers (38 miles) south of the Arctic Circle. BMW (this is where Chris Harris drove the new BMW M5 for us), Daimler, Audi, Toyota, Ford, Fiat, Saab and Hyundai all test there. But while Arjeplog is increasingly important to carmakers eager to optimize their vehicles for driving in extreme weather, the auto industry is even more important as a life saver for Arjeplog's 3,161 residents, Bloomberg Businessweek reports in its April 11 issue. The area struggled after the lumber industry dwindled in the 1980s and local lead mine closed in 2001. Wow, the region went from lumber to lead and now to autos? What's next on Arjeplog's saved-by-a-limping-along industry list? Are U.S. magazines and the rest of the paper media industry moving there?