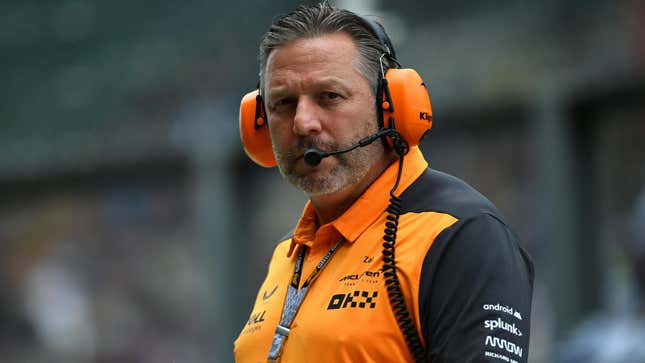 Since Zak Brown took control of the McLaren Racing program in 2018, he's been hellbent on expanding the team's historic portfolio to encompass just about, well, everything. From a focus on Formula 1, we've seen a McLaren expansion into IndyCar, Extreme E, and, most recently, Formula E, with the program signing up much of motorsport's most promising talent. What is it, though, about McLaren that actually works?
This NYC Garage Takes Vanlife To The Next Level | Jalopnik Visits
I had an opportunity to pose that question directly to Brown during a round table ahead of Formula E's season opener, the 2023 Mexico City ePrix. What makes it possible to turn a racing enterprise into the kind of extended universe we're more likely to see in, say, Marvel movies? The answer, though, was a simple one.
"I think we have a good, fun environment," Brown said of McLaren. "If you look at our drivers, they all support each other. They can drive our historic cars, because McLaren has a great racing history. It's a good environment, even for the mechanics and teams."
Anyone familiar with the McLaren origin story will know that founder Bruce McLaren's passion was motorsport, which meant working long hours in pursuit of a better, faster car — but there was still plenty of time for bonding with the team members and playing elaborate pranks. That's an underrated piece of McLaren history, but one that Brown has aimed to preserve.
"There's a time to be deadly serious about what we do," he said, "and then there's a time to recognize: We race cars for a living, and that's pretty cool."
Of course, it hasn't been all sunshine and roses at McLaren — something that Daniel Ricciardo or Alex Palou fans may be inclined to argue. In some ways, then, maintaining a fun-loving atmosphere while simultaneously expanding at a rapid pace has proved to be a massive challenge. But with the incentive of, say, getting a chance to drive one of Dale Earnhardt's stock cars should you nab a podium in Formula 1, it's clear that McLaren is looking to experiment with motivations, and with some obvious success.