Aw, dammit! Why did I go heat up that burrito before clicking the BUY NOW button on Bugatti's website? Looks like I just missed out on buying the 450th and last Bugatti Veyron. This last Veyron, called the "La Finale" (that's Franco-Dutch for "the finishment") was sold, shockingly, to a Middle Eastern collector.
Not much is yet known about the La Finale edition Veyron, save for the fact that it will be using the same 8L W16 engine as the Grand Sport Vitesse, still pumping out an embarrassingly anemic 1200 HP, which makes it barely able to hit 253 MPH (with the hardtop on). It's still woefully inadequate for discerning drivers like myself for whom 300 MPH is an absolute minimum. Let's hope VW decides to spend some money on the Veyron's successor to take care of this ridiculous problem.
While the aesthetic theme and design cues of the La Finale are not yet known, a source inside Bugatti has told Jalopnik to expect extensive use of human-sourced materials, which gives the car an "Ed Gein-meets-Saville-Row" sort of feel. These materials were picked since they represent the ultimate in rarity and exclusivity. We were also told that all human-sourced materials (hair, teeth, eyeballs used for warning lights, etc) were all donated voluntarily by prominent deceased members of the motoring community.
G/O Media may get a commission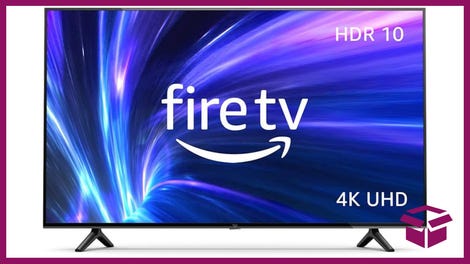 42% Off
Amazon Fire TV 50" 4K Smart TV
Of course, at this point this is all just rumor.
Even though most of these cars won't ever be driven more than a hundred miles or so, they are legitimately technical masterpieces and as such will have a secure place in motoring history. VW did manage to bring back the Bugatti name in a dramatic way, and these cars have proven the remarkable technical achievements the VW group is able to achieve, no matter how useless or absurd. But that's okay — these cars have never been about anything rational, and that's fine.
The original Veyron was famously designed to be able to get to 60 in under 3 seconds, go over 240 MPH, and "still be suitable for driving to the opera in comfort and style." I hope some more exciting goals will be picked for the Veyron's successor, since VW has already well proven the fast-as-shit/comfortable-opera-shuttle thing pretty well.
Maybe a car with 1500HP that can go to 300MPH in 5 seconds, yet can still be used to transport a couple baby grand pianos? Maybe a car that gets 500 MPG and can be folded and worn like a suit? Maybe a luxury car that can burrow through solid granite, but can still ferry eleven people to a steeplechase in style? There's so much more to achieve!
So, enjoy that last Veyron, anonymous Middle Eastern collector. I'll see you at the Dubai Veyron meetup in 2064 when I get my slightly burn-damaged Veyron off lunarpenalcolony.craigslist.org.