Although Messerschmitt remains best known for their World War II fighter aircraft, facing a ban on airplane production after the war the company expanded into other sectors. The three wheeled Messerschmitt KR175 seen here is the strange result of the company's entrance to the auto industry. Currently for sale on Ebay, this particular example could be your entry to the weird world of German bubble cars.
They might be fairly conventional and well known to micro car enthusiasts, to the rest of the world the three wheeled Messerschmitt "Kabinenroller" is pretty damn weird (not that there's anything wrong with that). The KR175 was the first model introduced by Messerschmitt in 1953 for the mostly broke German motoring public. It was replaced with the updated KR200 in 1955, which was eventually driven into extinction by larger and more conventional four wheeled vehicles.
At first glance you notice the KR175's three wheels and acrylic hinged bubble top, but the interesting design elements of this bubble car don't stop there. Inside there is a tandem seating configuration with handlebars instead of a steering wheel. On those handle bars you will find the KR175's throttle instead of a conventional gas pedal.
We know the example seen here is a 1954 KR175 that was restored at some point and it runs and drives as it should, but that is about it. Even though the seller didn't reveal a whole lot of information about the car, so far it hasn't seemed to have a negative effect on bidding. With over nine days left to go bidding has already reached $20,000, about $6,000 shy of the price this KR175 is currently being advertised for on the dealer's website.
We may question whether or not the novelty of a vintage Messerschmitt is actually worth $26,000, but we would sure love to do some three wheel bubbletop cruising in this KR175 before we made our final decision.
G/O Media may get a commission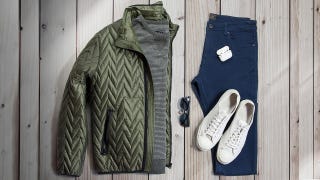 60% off
Jachs NY Fall Sale 60% Off
[Ebay]