At what point to you quit faking it 'til you make it and proclaim that you've in fact made it? Personally, I think that point comes right after you buy a hand-built boutique sports car with a Ferrari V8, like this beautiful Maserati Coupe, now yours for the price of a used base model Toyota Camry.
This 2002 Maserati Coupe is no slouch. Its 4.2 liter V8, made by Ferrari produces just shy of 400 horsepower, and the power fed through its 6-speed F1 flappy-paddle Cambiocorsa transmission the car from 0-60 in 4 seconds flat. That was actually faster than some Ferraris of the era, so this car really was a case of the apprentice beating the master.
The interior is one of the best styled interiors I've ever seen. And although the car looks to have been taken of quite well by its previous owners and has average mileage for its age, it's not without its quirks. Here's an excerpt from the description:
Owned by the owner of a high end car detailing company, thus kept in pristine condition. Runs perfectly and is very fast with it's Ferrari engine. Passanger's side rear tire leaks air, but nothing major. Drivers side window does not go down when door is opened to clear the frame, thus it must be rolled down 2 clicks before it is opened- bit of a nusience but for an italian car that is nothing major.
G/O Media may get a commission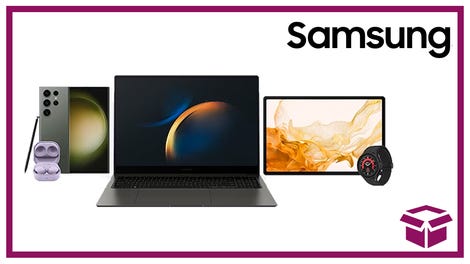 24 hour deals
Discover Samsung - Daily Deal
While the F1 flappy-paddle transmission isn't the most refined thing in the world when cruising around town, there is perhaps no better gearbox on the track. Its lightning quick upshifts and snappy downshifts make this an absolutely epic weekend warrior or track rat. It's also quite reasonable to repair, as there were enough of these cars made that maintenance and common issues are well known and documented. Sourcing parts probably wouldn't be cheap, but they would be available. It's a great choice for the money, because saying "Let's take the Maserati" will never get old.
For more bonkers performance values, check these out:
---
Tavarish is the founder of APiDA Online and writes about buying and selling cool cars on the internet. He owns the world's cheapest Mercedes S-Class, a graffiti-bombed Lexus, and he's the only Jalopnik author that has never driven a Miata. He also has a real name that he didn't feel was journalist-y enough so he used a pen name and this was the best he could do.
You can also follow him on Twitter and Facebook. He won't mind.