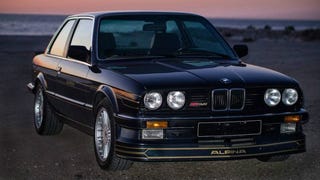 The collector market for BMW E30 performance cars has officially reached ridiculous status. Just when we thought the $58,000 E30 M3 was the peak of the bubble, now a super rare Alpina B6 3.5 on Ebay might command the highest sale price to date for an E30 BMW.
For those of you not familiar with Alpina, here is a quick run-down. Alpina is essentially a factory approved BMW tuner, but they take a different approach improving the "ultimate driving machine" than the in-house ///M division. Alpina cars tend to be more focused on power upgrades and unique styling accents for more of a "touring" feel, rather than a track day weapon like some of the M cars.
According to the seller, this car is number 30 out of only 219 B6s that were produced. Apparently, it is the only car in the United States and currently the only one available for sale worldwide. The B6 has the same 3.5 liter 6 cylinder motor from the E28 M5 that puts out around 261 horsepower and is paired to a manual transmission. It has 88,250 miles and is in "impeccable condition," except for a small burn mark near the ashtray and a wrinkle in the replacement spoiler that was purchased from a certified Alpina dealer. Also interesting to note, that Alpina cars come with their own unique VIN.
Sixty-two grand is some serious cash for an almost thirty year old BMW. But if you want some bragging rights and a significant power advantage over all those E30 M3 owners, this rare Alpina could be worth a look.