If you own a stock Toyota AE86, Mazda RX-7, Datsun 280ZX, or any of the many legendary sports cars Japan produced in the '70s and '80s, first of all: you're a lucky bastard. Second of all, if you're having a hell of a time finding little 13-inch or 14-inch tires that actually look "right" on your car, there's good news: Yokohama just brought back its 1981 Advan HF Type D tire.

New old stock car parts are awesome; I've purchased quite a few for my 1948 Willys CJ-2A. But among things I would never buy in new old stock form are tires, because, obviously, rubber degrades over time. Lucky for me, if I want my Willys to look "period correct," I can just snag some non-directional tread tires from the internet.
If you own a 1980s Japanese sports car that you're trying to get into "period correct" shape, Yokohama—which turns 100 this year—is releasing a "reprint" of its 1981 Advan HF Type D tire tomorrow.
In its press release, Yokohama describes just how legendary the HF Type D was when it came out in the early '80s, saying (translated from Japanese):
ADVAN HF Type D" was released in 1981. I gained a high evaluation with innovative merchandising and excellent driving performance which adopted the dimple tread design on one side for the racing slick tires used in the circuit race. One of the products that increased the name of YOKOHAMA in Japan and abroad during the 1980s and 1990s, such as later being installed in a sports model of Porsche. Yokohama Rubber will be releasing "ADVAN HF Type D", one of the products that has been deeply involved in the history of motor sports from the aspect of motor sports, leading the era, to respond to the needs of enthusiasts. 

G/O Media may get a commission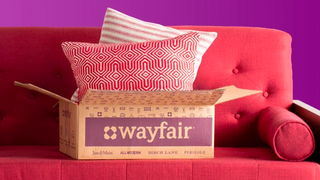 Big deals
Wayfair Surplus Sale
Right now, the old-school tires are available only in Japan from Advan's (Advan is Yokohama's motorsports-oriented brand, created in 1978) online shop, but Yokohama says it plans to sell the tires in other countries, too.
Here are the sizes that will become available starting tomorrow:
And here's a closer look at a prototype Advan HF Type D tire at the Tokyo Auto Salon:
I myself am an aspiring first-generation RX-7 owner, and I realize that nothing looks better than an old-school skinny tread design on tiny stock wheels. So when the car gods do eventually bless me with rotary goodness, I may have to overnight these shoes from Japan.
h/t: Paulo