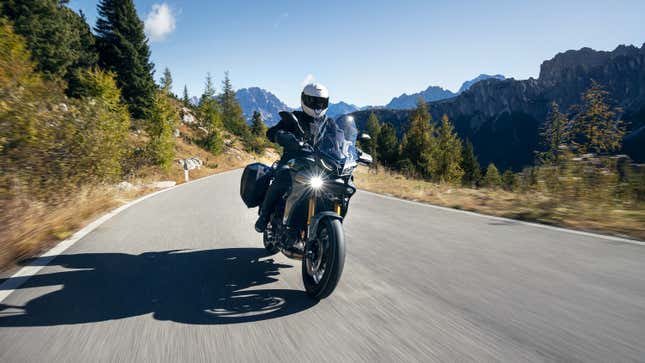 Touring bikes are getting smart, almost scarily so. They have cruise control, lean-sensitive ABS, Apple Carplay and electronic suspension — the kind of tech that sounds more suited to luxury cars than long-distance bikes. But that tech is here, it's not going anywhere, and it's getting ever cheaper. Now, it's even come for Yamaha's lineup.
Yamaha unveiled its updated Tracer 9 GT+ today, a new take on its flagship sport-tourer. Its 890cc inline triple remains largely unchanged, but the bike has a whole new suite of electronics that appear to bring it up to par with the industry's fanciest machines — and, in some ways, beat them all.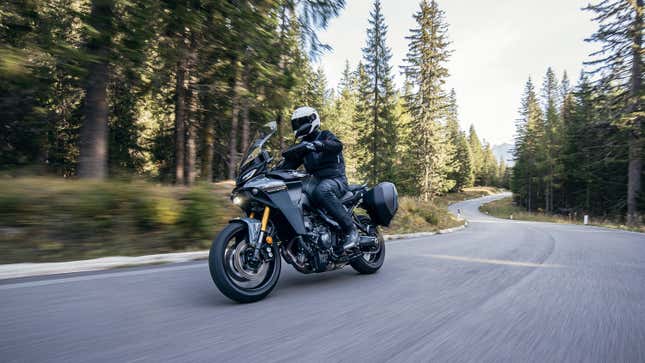 The new Tracer 9 GT+ introduces radar up front, meaning the bike now has adaptive cruise control. Just like a car, it'll hold its distance from the vehicle ahead of you regardless of speed. But unlike in a car, Yamaha's radar interfaces with two other parts of the bike: Brake bias and suspension damping.
If a rider begins braking while radar cruise is active, but the bike's ECU doesn't believe they're applying enough pressure to avoid a collision, it can adjust their brake inputs to avoid disaster — both by adding pressure to the brake system, and by adjusting the ratio of front brake force to rear. It will also adjust both front and rear suspension damping in order to maintain traction, which could — if tuned to do so — mitigate fork dive, preventing the emergency braking maneuver from upsetting the rider.
Of course, this all relies on the rider's inputs — Yamaha makes it clear this is not an emergency braking system, and that it will only begin compensating for brake pressure after the rider pulls a lever or stomps on a pedal. Even then, the bike needs its Brake Control mode activated before it will intervene.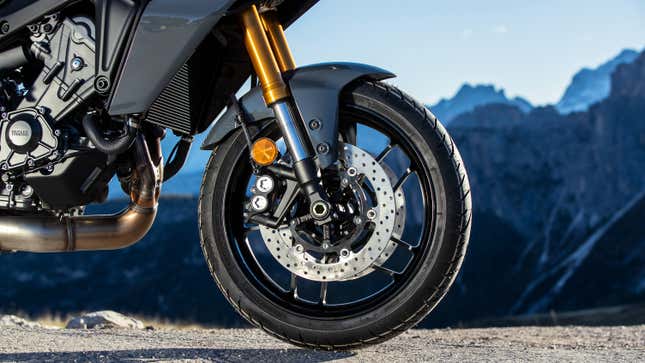 That suspension, of course, is also electronically controlled outside of emergency conditions. It reads from the bike's IMU to adjust damping in near-real-time to optimize grip and comfort. All those fancy electronics are controlled through a TFT display, which can interface with a mobile app for cell phone pairing. Touring bikes have truly reached passenger-car levels of complexity.
But that complexity doesn't have to break the bank. The Tracer 9 GT+ will retail for $16,499 when it hits dealers next month. Compared to the other bikes on which you'll find this kind of tech — the Ducati Multistrada, BMW R1250GS, Kawasaki Ninja H2SX — that's a downright steal. If you're looking for maximum comfort on long highway tours, the Tracer 9 GT+ seems to be a solid contender.