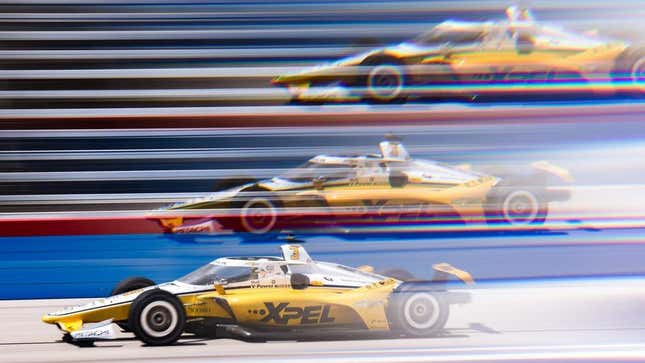 As Michael Mayall walks through the IndyCar paddock, personnel from various teams step forward to shake his hand and chat. The Vice President of Corporate Development at XPEL may facilitate a partnership with Team Penske, but the friendships he maintains with everyone in IndyCar are integral to the overall vision of the protective coatings company.
Full disclosure: XPEL invited me to the 2023 Hy-Vee IndyCar weekend at Iowa Speedway, where I was able to shadow Michael Mayall for a day to understand what it takes to facilitate and maintain a sponsorship program. XPEL is a Team Penske partner, and in Iowa, it was the primary sponsor of Scott McLaughlin's No. 3.
Modern motorsport relies on sponsorship; a team can't exist without a slate of backers, and those backers benefit by building strong connections within the sport. As I shadowed Mayall, I was surprised by just how many people within IndyCar spoke to him about the XPEL coatings they'd installed on their cars or their home windows, both within the Penske organization and outside of it.
"The biggest thing is that we need the organizations representing us to be a good fit," Mayall told me when I asked how sponsorship talks begin. "It needs to fit from a brand standpoint, how we can engage customers in our target audience.
"We also think about what our products do. Our paint protection film is designed to keep your car looking perfect, like the day you brought it off the showroom floor. Penske shares that attitude — that dedication. They're the gold standard in motorsport. They're Penske perfect."
XPEL considered both NASCAR and IndyCar when the time came to sponsor a team in racing, and despite Penske's presence in NASCAR, the company felt most at home in the open-wheel series.
"We could envision the way the XPEL car would look, and we saw the way the entire Penske organization operated in IndyCar. We felt that we were cut from that same cloth," Mayall explained.
Further, the familial atmosphere of the sport — where even competitors can be friendly with one another and help each other out — made the series a great fit. Folks at the track from other teams approached Mayall all weekend long for a chat. That's another component of what made Penske's IndyCar program so appealing.
"From what I've noticed, Roger Penske does an excellent job with business-to-business relationships," Mayall pointed out. "Two companies may not have a direct opportunity to work together on track, but Penske has said, 'I need to introduce you to so-and-so because I think working together would be a good fit for both of your companies.'"
Penske's dedication to his sponsors runs deep. Mayall pointed out Snap-On, one of the team's longest partners; part of the appeal of working with a team like Penske is that sense of longevity, that dedication.
"A lot of motorsport operates on a contract, and it doesn't look outside those boundaries," Mayall said. "It makes me smile to see the respect among those longtime sponsors when Penske walks into a room. One of our big goals is to go beyond just out contract. We want our roots to go that deep."
Collaboration, communication, and community: I saw it all at play in Iowa. Mayall radiated warmth, making a point to introduce me to the regular players in the IndyCar paddock. Perhaps simply because I was shadowing Mayall, I was welcomed into conversations more as a colleague and friend than as a journalist. Beside Mayall, I was even able to greet Roger Penske himself and stop for a brief chat before qualifying began on Saturday — something intimidating for most anyone with a respect for American motorsport, but something that comes to Mayall with ease thanks to his effusive personality and respect for the companies he partners with.
When I asked Mayall about his goals for XPEL within motorsport, he laughed and declined to give any details about specific plans for coming seasons. Instead, he shared what he called his "big, hairy, audacious goal."
"When people see me wearing my XPEL shirt in the IndyCar paddock, they'll stop me to say, 'I won't drive my car without XPEL. When I upgrade my home's windows, I want to do it with XPEL,'" Mayall said. "We just want to expand our footprint in motorsport."