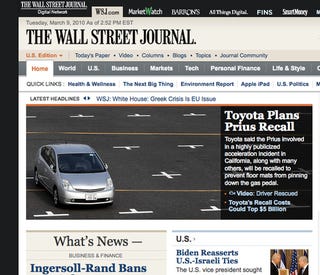 A confused Wall Street Journal cited a Toyota PR person, reporting that the 2008 Prius, seen yesterday accelerating out of control in California, will be the subject of a "future recall." They were wrong — it's already been recalled.
A banner story on the front page of the WSJ clearly states a new recall was forthcoming:
Toyota Motor Corp. said Tuesday that the Prius involved in a highly publicized acceleration incident on a California freeway along with hundreds of thousands of others will be the subject of a future recall to prevent floor mats from pinning down the gas pedal.
But one click on the Toyota Recall page and they'd have known the 2004 Toyota Prius is on the floor mat recall list.
Someone must have alerted the WSJ to this because they quickly changed the story and the headline, as seen in the image below taken approximately 45 minutes later.
Part of the confusion may stem from Toyota's lack of a solution for second-generation Prius owners and explain why the runaway Prius driver was turned away from the dealership. The rest of the confusion may stem from how boring and forgettable the cars are when they're not accelerating out-of-control.