The next time you think you might want to change seats on your flight, consider this cautionary tale — one woman found herself in jail for three days, after attempting to do so on a United Airlines flight. She's now suing the airline for $5 million.
The incident happened in 2013, while 68 year-old Jean Mamakos was traveling from New York to Alaska. After changing planes in Seattle, she noticed the emergency exit row was empty, got up and moved after the entry door was already closed and secured. A flight attendant allegedly told her that she would have to pay $109 for the upgrade, because the row has extra legroom. Mamakos told CBS2 that she decided to move back to her seat after the upgrade cost was mentioned.
United Boeing 767 by AeroIcarus (Flickr / CC Commercial License)
At this point, the story becomes a little unclear, because we don't have United's side of the story. Mamakos said a pilot made an announcement that "there is a lady who wants to get off the plane on this flight. So we have to wait." Mamakos didn't realize it was her who was being mentioned. According to Mamakos, she was surrounded by the flight attendants, who then demanded she leave the plane. Mamakos refused. Police were brought onto the plane to remove her, citing that she was trespassing - even though she had paid for a seat on the flight.
G/O Media may get a commission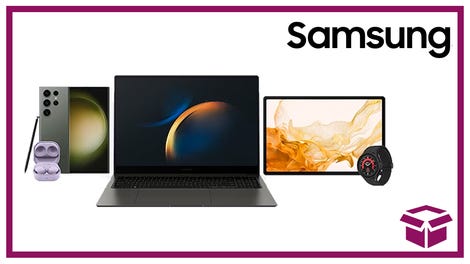 24 hour deals
Discover Samsung - Daily Deal
Mamakos was handcuffed and dragged off the plane, tearing her jeans in the process. Because courts were not open during the weekend, she had to spend three days in jail while her friends continued on to Alaska for their ski trip.
This is so bizarre, I don't know where to begin. United acknowledged the suit, but won't comment because it involves an active case. They did say airline FAA rules require that anyone who sits in an emergency exit row must be briefed before the flight, to make sure they are willing and able to assist in the evacuation of the aircraft, if necessary. I think it's obvious to most of us that Makamos must have pitched some sort of a fit, because you don't just get arrested for trying to change seats, even if the doors are closed. Like it or not, if you express anger toward the flight crew, they can have you removed for being a "flight risk." United says the case may be tried in a Brooklyn federal court.
Top image via Shutterstock
Paul Thompson is a aviation journalist with over 13 years of experience working in the airline industry, who maintains the website Flight Club for Jalopnik.com. You can contact Paul to submit story ideas, your own "Plane Porn" photos, and comments regarding this or any other aviation topic via email at paul@Jalopnik.com. You can also follow Flight Club on Twitter: @flightclubnews