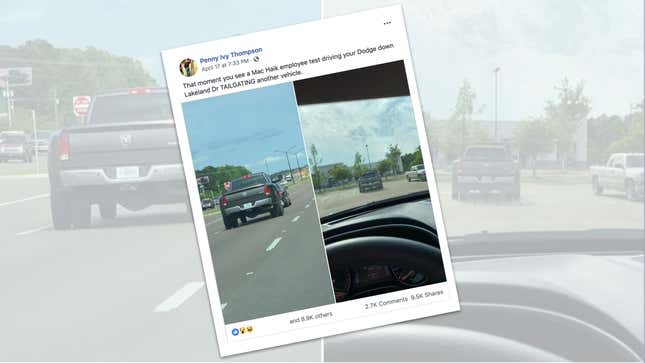 No one wants their car misused while in the shop, since it's in for service, not joyrides or errands. But a Mississippi woman with a knack for teaching people a lesson didn't just file a complaint when she saw a dealership employee running errands in her truck—she just stole the truck back and left them without a ride.
The woman, Penny Ivy Thompson, posted her side of the story on Facebook on Wednesday: basically, that when her truck was supposed to be at the local Mac Haik Flowood dealership for service, she instead saw it tailgating another car down the road and followed it to make sure it got to its destination "in one piece." Its destination, Thompson wrote, turned out to be Lowe's.
Thompson said she waited 20 minutes for the employee to come back out, but eventually called the dealer to ask where her truck was. She ended up telling them herself, in addition to all of social media—her post from Wednesday had nearly 10,000 shares, as of this writing.
"Well then what did I do?" Thompson's post said. "I found my spare key out of my purse and I steal MY OWN DODGE from Lowes parking lot cause ya see I'm a Home Depot kinda girl anyway.
"Here comes ol dummy... swinging his shopping bag and I never checked up. He never looked up. He just stopped and stood in the parking lot. I left him in the parking lot stranded."
Jackson, Mississippi newspaper the Clarion Ledger confirmed the incident with the dealership and through Facebook, where it linked to a comment from the dealership's general manager, Will LaGrange, on a follow-up post.
The link now leads to a "content is not available" page, but the Clarion Ledger reports that LaGrange said the employee who took the truck to Lowe's was fired and that the service manager was suspended. LaGrange also said he offered to meet with Thompson and her husband to apologize in person.
From the story:
"I am fully aware of the situation that has occurred and I am disgusted that an employee of mine would take a customer's vehicle for anything other than official use. I take full responsiblity (sic) for what has occurred. Swift action has taken place and will continue to take place," LaGrange said in the Facebook comment.

"Penny and her family have every single right to be mad at what has transpired. I am embarassed (sic) both professionally and personally by what has occurred, and I will do what it takes to make sure that something like this never happens again," he said.

The dealership owner told the Clarion Ledger he accepts responsibility for what happened and that he'd make sure the technicians there were trained on how to handle customer cars: "better than [they] treat [their] own vehicles," he said.
Of course, plenty of us do take our own vehicles to home-improvement stores.