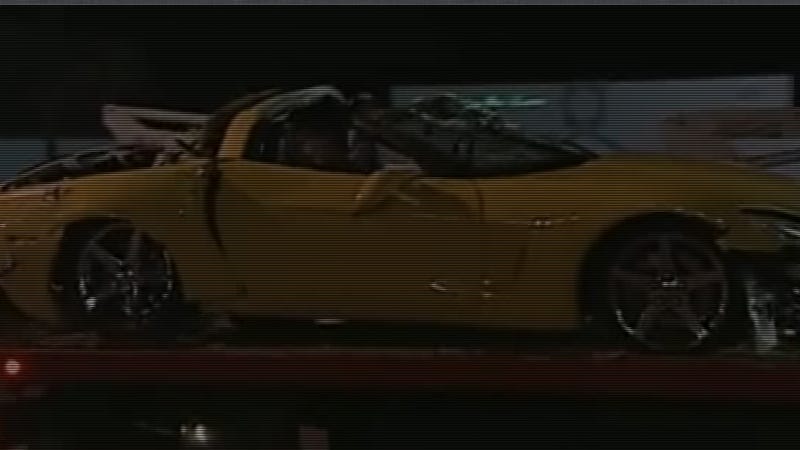 A woman in her late 20s ended an evening of car appreciation at a Boston-area Ferrari dealership with car destruction when she attempted to do a little showing off in her yellow Corvette and a mistimed burnout left both the driver and the car upside down and in pieces.
The accident occurred Saturday night outside Maserati/Ferrari of New England just as the dealership was closing up for the night.
"She came out of the furthest entrance and did step on it a bit, like everyone does when they drive by the place," Sales Manager Rich Geremia told Jalopnik. "[She] downshifted and got sideways and nicked a curb and got airborne and flipped upside down, she thankfully didn't hurt anyone."
A report from WCVB-TV Boston describes the unidentified young woman as a race car driver who was out seeking a faster car.
A witness told NewsCenter 5 that the woman in the Corvette races cars for a living and had stopped at a Chevrolet dealership looking for a faster car. The lot apparently didn't have one so she went to test drive a Ferrari at a nearby dealership.

The witnesses said something happened at the Ferrari dealership which spurred the woman to peel out and then crash a short distance away.
It's a remarkable story, but according to Geremia it's "complete BS."
He describes the woman and her friend as "very nice girls" and car enthusiasts who stop by a couple of times a year to look at the new cars, but who never ask to test drive anything and never described themselves as being anything like race car drivers.
"She just comes in with her friend at the end of they day and are pretty respectful of our time," said Geremia. "She's a nice girl and made a mistake."
Geremia witnessed the crash and says neither the girl nor her passenger were air-lifted to a hospital and, though shaken up, both appeared to be in decent shape given the severity of the crash.
It appears no Ferraris were harmed in this incident. There's still that other thing with Ferraris that happened this weekend, though.