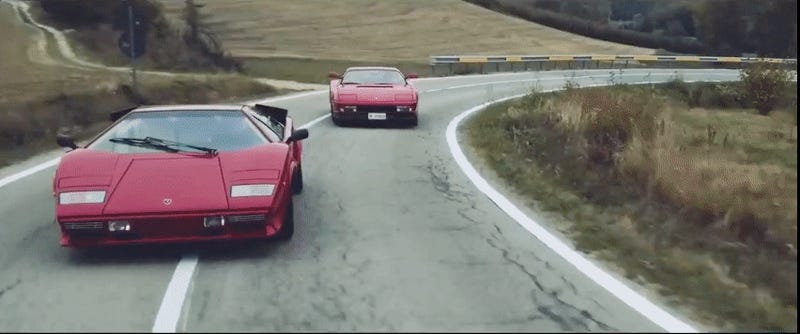 Yes, that is an oddly specific fantasy, but when you watch this short film you'll understand. And you'll want to be there.
This is "Wolf of the Autostrada," a short film that stars some very special people and some very iconic fast cars from the 1980s. Set to Frankie Goes To Hollywood and Spandau Ballet, we get to see four guys go at it on the Italian motorway in a RUF CTR Yellowbird, a Lamborghini Countach, a Ferrari Testarossa, and an Aston Martin V8 Vantage. Not a bad lineup.
Of course, it's even cooler when you know who the drivers are: Lamborghini test driver legend Valentino Balboni, RUF tester Stefan 'Der Professor' Roser, racing driver Mirko Venturi and sports car racer Sam Hancock.
In particular I enjoyed the part where, rather than fix his Testarossa, Venturi simply robs Balboni at gunpoint and takes his Countach. Balboni, unperturbed, reconnects a hose on the Ferrari and drives away. They are later seen having breakfast. Rich people!
As always, note that we do not condone street racing, except for the obviously fictional and consequence-free kind like you see here. Plus, all of these guys probably had police on their payroll anyway, so I doubt tickets or arrests would've been an issue.