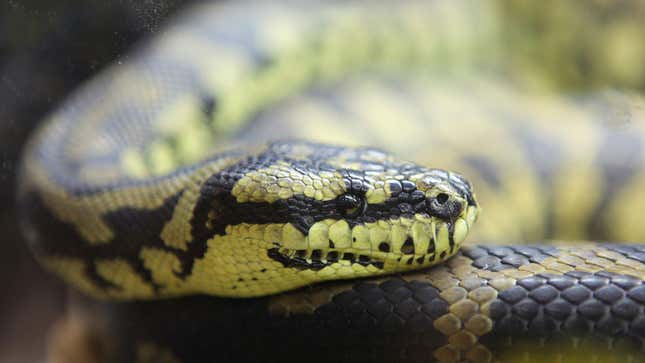 If you live in Wisconsin, I imagine the biggest threats to your car are things like the potholes on the roads, rust from all the cheese brine that's sprayed across the highways in winter and maybe your fellow road users. One thing I wasn't expecting to hear about terrorizing drivers in the state is massive snakes.

2024 Nissan Z NISMO | Jalopnik Reviews
Rather worryingly, that's exactly what one Wisconsin driver found in their car when they popped the hood this weekend, according to local news station WLWT 5. According to the news site, a driver in the Green Bay area discovered a seven-foot python sleeping on their car's engine one morning and somehow managed to deal with it without screaming and running away, as I would have done.
According to the site, the massive reptile was a Jungle Carpet Python that had gotten loose in the area, where it was first spotted in someone's garage. The snake, which is originally native to Australia, then slithered free and found its way into the engine bay of this car. According to a wildlife expert that WLWT 5 spoke with, the python ended up in the engine bay as it was searching for a warm place to rest its limb for a while. WLWT 5 reports:
"It's not a common thing that we see," Bay Beach Wildlife Sanctuary Curator of Animals Lori Bankson said.

Bankson said the car owner safely drove over to the wildlife sanctuary with the reptile. Pecan Street is more than four miles away.

"They gave the OK that yeah, the snake should be fine if you drive the car over," Bankson said.
Once the car and its slippery passenger were at the wildlife sanctuary, WLWT 5 reports that Bankson and a colleague worked to safely remove the python from the engine bay. It is now being cared for at a rescue center.
According to the news site, the snake didn't actually belong to the person that discovered it sleeping in the engine bay. This means that it's now sitting in a rescue center waiting for its forever home.
However, if you're in the market for a ginormous snake that could haunt your nightmares, this might not be your lucky day. According to WLWT 5, the snake will soon be taken in by the Wisconsin Humane Society until it can be moved to a permanent location.