Take your bets now! I only drove her from the airport to the airport hotel's parking lot here in Birmingham so far, but the next time I jump in it, I'll have to take her to Edinburgh. Everything is on the wrong side, I can't see out of it, 380 horsepower. Yep.

Okay, so what would you like to know about the smaller F-Type that's more fun than the V8? I'll have it for almost a week. Unless I crash it in the next 24 hours, that is.
But I'm not here for the F-Type anyway. I'm going to visit the Jaguar Land Rover Heritage Driving Experience, where they have everything from a C-Type to a Land Rover 101 Forward Control in the mud. Fun for the whole family!
After that, it's a five and a half hour drive to Scotland, where I shall attend the Concours of Elegance and might even get the chance to talk to Jag's Head of Design, Ian Callum. Yes, I'll will ask him about his 1993 Mini again. Who cares about SUVs anyway?
G/O Media may get a commission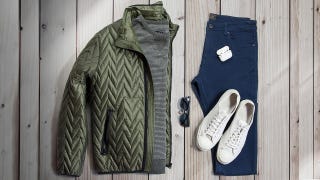 60% off
Jachs NY Fall Sale 60% Off
After the fancy stuff, I'll get right down to business for you, driving my Jaaaaaag to Liverpool to meet the folks at the Briggs Automotive Company. Otherwise known as the team behind the BAC Mono! They will provide me with a helmet, for reasons.
My next stop will be in Oxford, where I'll talk to a group of people who are smarter than me at Williams Advanced Engineering. From F1 machines to cutting-edge supercars like the X-C75, they do it all. I'm sure they have cool toys too.
Have you ever heard of Elemental Cars? They live not far from London, and I'll find out exactly what they do, because that's where my trip ends. But a 2.0 Ecoboost tuned to 280 hp in a car weighing just 1,366 pounds should keep me on my toes.
Almost as much as the F-Type tomorrow. Any questions about any of these topics? Shoot below!
---
Contact the author at mate@jalopnik.com.