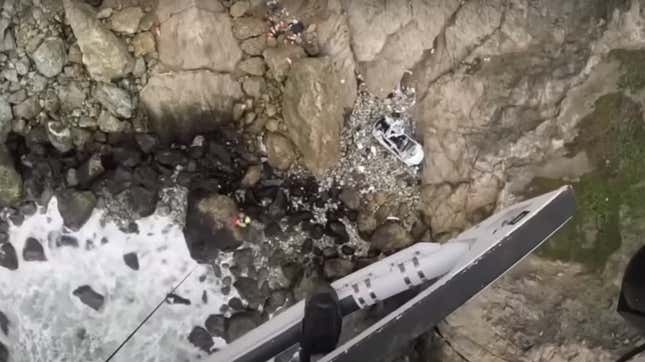 A man who police say intentionally drove his wife, young son and daughter off of a 250-foot cliff in the family's Tesla in California last month was taken into custody and charged with three attempted murder counts as soon as he was released from the hospital on Monday.

Friday, February 10, 2023 3:20 p.m. EST - Dharmesh A. Patel entered a plea of not guilty to charges he planned to murder his wife, 7-year-old daughter and 4 year-old son. The judge issued a no contact order, which bars Patel from having any contact with his family, NBC Los Angeles reports.
The crash occurred January 2 on a stretch of the Pacific Highway 1 near a cliff known as the Devil's Slide due to frequent fatal car crashes. San Mateo prosecutors say the crash was intentional, and charged Dharmesh A. Patel with three counts of attempted murder as well as two counts of causing great bodily harm and committing domestic violence due to the injuries his wife and daughter received in the crash. Miraculously, Patel's son was not seriously injured in a crash rescuers say most do not survive. It was likely dumb luck and Tesla's safety-forward design that saved everyone's lives in this crash.
In fact, not only did the whole family survive but Neha Petal, Dharmesh's wife, was conscious when rescuers reached the crumpled Model Y, according to the Los Angeles Times:
As they rescued her, Patel made statements to paramedics that helped lead to the three attempted murder charges filed Monday against her husband, Dharmesh Patel, 41, who was driving the Tesla when the crash took place.

"'He intentionally tried to kill us,'" Neha Patel told paramedics, San Mateo County Dist. Atty. Stephen Wagstaffe told The Times on Monday.

"She said very simply this was not an accident," Wagstaffe added.

[...]

On top of Neha's statement, prosecutors also secured video from a tunnel just before the crash site that shows Patel "making a sharp right turn over the cliff," Wagstaffe said. Prosecutors have also spoken to two witnesses in cars that were behind the Patels who will testify that they did not see the car attempt to brake before going over the cliff, he said.
Both children are under 10 years of age. The family has been released from the hospital, though Dharmesh remains in San Mateo jail. A judge order Dharmesh to be held without bail, though decline to ban him from having contact with the family he tried to annihilate.