I went to the Rolex 24 for the first time last weekend. My fiancé and I drove all the way from Canada, pitched a tent, and slept in chilly weather for an entire weekend—and then drove home as soon as the race was finished so I could make it home in time for class. It was a fool's errand, one of the craziest things I've ever done. And I hope everyone talks themselves into this at least once in their lives.
I gotta admit, it is pretty tempting to enjoy a 24 hour race the comfort of your own home. You can be nice and cozy on the couch, you have a great view of all the on-track action, and you can turn off the noise any time you need a quick snooze. I've been there, I've done it, and it's pretty great. But it doesn't compare to the real thing—and I'm here to tell you why.
The History, The Spectacle, The Mimosas
Daytona might not be the birthplace of endurance racing in America, but every January it feels like its home. The IMSA season opens here, and sports cars have been tearing around this track since the late 1950s, all of which feels very important as you watch two dudes construct a sizable campsite barrier out of three thirty-racks before a car has even hit the track.
You're a Kid Again
I've been to my fair share of races. I've been to the Indy 500 every year since its 100th running. I've hung out at Watkins Glen, a track I've idolized since I was a child. I've watched Formula One cars in four different countries at four different tracks. I've checked off plenty of my bucket list items in rapid succession over the past few years—going to races is always fun, but it's not always magic.
But the Rolex 24 was different. I showed up this year with some seasoned Daytona veterans who had managed to secure a trackside campsite. My fiancé and I pulled into the site, got out, and there it was: prototypes screaming across the banking at NASCAR turn three. I thought it couldn't get any better.
G/O Media may get a commission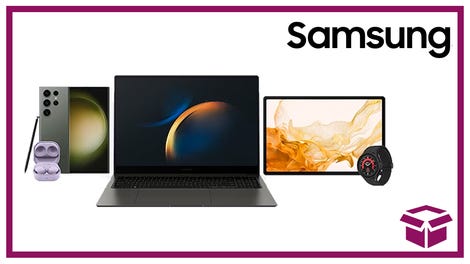 24 hour deals
Discover Samsung - Daily Deal
And then night practice happened.
It's so hard to describe. It's that jaw-dropped feeling of awe that usually waves goodbye as you transition from childhood to being a I'm-too-cool-for-this teenager. That hour of night practice was pure, giddy ecstasy. I stood there the entire time, face pressed against the chainlink fence, watching one car after another cruise on by. And that electric feeling of the first race of the year? Goddamn.
I don't religiously follow IMSA. I go to some races, I'll turn it on when I need some Sunday entertainment. But just seeing cars doing incredible things on a track as legendary as Daytona was enough to make me want to start tuning in regularly. It's just that good.
No Party Is As Good As an Infield Party
Yeah, okay. You can get drunk on your couch and watch the race. You can invite friends over and do shots every time the broadcast mentions Fernando Alonso. You can have a raucous, riotous time. It's not going to be anywhere near as incredible as the infield campsite parties during the Rolex 24 weekend.
Folks turn the infield into what is essentially a far more fun and more laid back frat party. I saw people pick up free couches in the area, cordon off a road, and turn the pavement into a living room. I saw people plant actual trees that were then decorated each day with ornaments of empty beer bottles. I saw folks bring giant meat smokers, willing to serve you a plate in exchange for alcohol. I saw BYOB battle shots and beer pong.
It's great, y'all. Everyone is there to watch cars, and most everyone is up for a conversation. People just want to hang out, get drunk, and chat about how incredible race cars are. Are you going to carry around mimosa supplies in exchange for breakfast food at home? No. But you can definitely pull that off in the infield.
It's Fan Accessible
I'm a young, able-bodied woman in good health. Walking around a race track isn't difficult for me. But I was still worried about Daytona—you can do a hell of a lot of walking in 24 hours, and I didn't know how my poor feet would fare after a long off-season where I'm not running around like a wild woman trying to see as much racing as possible.
But Daytona was surprisingly great for mobility. Everything you'd need—food, merch, bathrooms, viewing locations—was tucked comfortably within the infield (with the single exception of the main grandstand). You couldn't walk twenty steps without seeing a golf cart ready to collect folks who needed a ride. There were tram stops everywhere. My friend's father is a wheelchair user, and he's attended the race for years without much of a struggle. There are no big hills and your ticket gives you access to literally everything, which means you can see the track pretty much wherever you go.
And the track is really well located. If you're someone uncomfortable with camping, then you won't have to drive more than five minutes before you hit a hotel. If you need a hot meal, a last minute pair of socks, or a tent, you'll be able to easily find what you need just across the street from the track.
It's Actually Relatively Affordable
I paid just over $100 for a ticket that gave me access to the track for the whole weekend. Folks, that is a really good price. $100 for 24 hours of racing, including all the practice sessions that lead up to it—and essentially free rein around the track? That's incredible. That's one of the best ticket prices in motorsport, considering the amount of track time your ticket gets you.
And track food, while more expensive than the same food would be outside of the track, is decent. I've lost track of how many races I've gone to, and the only track with better food prices than Daytona is the Red Bull Ring in Austria. (Editor's note: It appears Elizabeth has not been to the legendary Eldora Speedway.) There are food vendors in the infield that offer everything from poké to burrito bowls to fried Caribbean pies—and it's pretty rare to find a meal that costs more than $12, which is impressive. Even the awesome infield ferris wheel was five bucks.
The biggest money pit is liquor. But all you really need to do is bring your own, or come equipped with something you can use as a trade item in the infield.
It's Not as Long as You Think
One of the things I was most worried about was the fact that 24 hours is a really long time. That's a whole-ass day. I'm always ready to get up and stretch my legs during a race of any length. But 24 hours? That's a lifetime.
Folks, it doesn't feel that long. I found a group of internet friends in the grandstands before the race, where I watched the first two hours of the race. We then walked through the paddock and watched half-dead cars be brought back to life, headed back to the campsite, tooled around the rides in the midway, watched a few hours around the track, and went back to the campsite. By then, it was around midnight. Ten hours had flown by in the blink of an eye.
You're not necessarily at Daytona to watch the entire race. You're there for the experience. No, you're not going to see the full 24 hours from the grandstand or the campsite. No, you're not going to have any idea what's going on if you're not watching one of the screens or listening in to IMSA radio. But have you ever watched race cars at night from the top of a 150 foot ferris wheel? Have you ever watched a team spend two hours frantically piecing a broken car back together and still get back on track? Have you ever had 24 whole entire hours to look up at the track and still see cars?
If you have not, there is Daytona waiting for you. It's one hell of an experience.