This is The Morning Shift, our one-stop daily roundup of all the auto news that's actually important — all in one place at 9:30 AM. Or, you could spend all day waiting for other sites to parse it out to you one story at a time. Isn't your time more important?
1st Gear: It's Godzilla (Toyota) vs. Mothra (GM) For Top Spot

GM was the biggest carmaker in the world for like 70 years, then a mix of natural and manmade disasters spiked Toyota's in 2011, but it was just for a year and Toyota came back to reclaim its place as king of the monster automakers.
What of 2013? According to the AP, Toyota is on its way to continuing its reign with 7.41 million vehicles sold, up 0.1% from last year through the first three quarters and decently ahead of GM's 7.25 million cars.
G/O Media may get a commission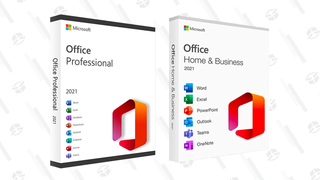 89% off
Microsoft Office Professional 2021 Lifetime License
Volkswagen is up 5% globally year-over-year to inch above 7 million sales, waiting Battra-like to jump in and destroy both of them.
How is this good for you? Despite profits being ultimately more important for all of these automakers, they're all intent on winning new customers. Wait until November and December and don't be surprised if the price of Toyotas, VWs, and GM/Chevy products mysteriously drop with an increase in incentives.
2nd Gear: Toyota Invades China

So, how is Toyota going to continue to put its fiery breath all over GM's ass? China. While Toyota may have the overall lead, GM has maintained the lead as the biggest foreign automaker in china for last eight years.
Not so much right now, though, with VW besting GM in the market by about 40K vehicles (2.31 million vs. 2.35 million).
GM's plan to strike back? more investment in the market says the WSJ, as well as moving more execs there and, of course, rolling out SUVs to the SUV-hungry China (where sales of SUVs grew 45% in the first three quarters).
3rd Gear: How Much Did The Shutdown Impact Car Sales?

Being a car salesperson in D.C. probably wasn't that exciting over the last few weeks, but forecasts for October show that uncertainty in September will give way to another increase this month.
Forecasts call for October sales to be about 7 percent higher than in September, despite recent warnings by several auto executives that the shutdown could cause sales to fall this month. Hyundai Motor America CEO John Krafcik said Oct. 15 that demand could be 5 to 10 percent lower than in September.
Analysts from LMC Automotive, Kelley Blue Book and Barclays Capital said they think the industry's seasonally adjusted annualized selling rate would climb to an estimated 15.4 million, from 15.3 million last month and 14.4 million in October 2012. Edmunds.com is forecasting a 13 percent increase and a SAAR of 15.5 million.
4th Gear: Fiat Can't Afford The Rest Of Chrysler

The basis of the Fiat v. UAW health trust battle is over how much money the UAW trust can get from Chrysler, it's only real chance to cash in. Much as this deal complicates things for Fiat, who desperately wanted to buy that last 41.5% of Chrysler the UAW trust owns, how can you blame them?
Now, via the Freep, an analyst for Barclaeys says that Fiat would need to borrow another $1.9 billion on top of what it already borrowed to buy the rest. The same analyst also says that Fiat should just pull a Ford, borrow all they can, restructure the company in Europe, and hope for better days.
If things go to an IPO then Fiat could be lined up for a downgrade, which would further complicate things, the report says.
5th Gear: Automakers Will Sell 450 Cars For Every Tesla Model S

Tesla's had a great year, despite a few setbacks, but it's a long way to go before world conquest. David Shepardson has a good profile of the company that puts much of what's going on in context.
There's a lot great in here, including Musk saying their stock price is higher than "we have any right to deserve," which is probably true and delightfully frank. While raising money is great for Musk he must recognize that any large price correction would look bad. Better to slowly bring the stock back to reality.
And what of the competition? From Tesla's VP for Biz Dev:
"Detroit has spent most of its time critiquing Tesla, dancing on our apparent gravestone, rather than seeing us for what we actually are, which is opportunity for them to de-risk a promising category of technologies, to create a market that they can take advantage of us," O'Connell said.
"We're only going to succeed if others follow us into this space. My frustration has been (that) Detroit in particular has been so focused on, '(Tesla) can't do that, who the —— are they?' "
Interesting. Tesla thinks it needs strong competition to survive. They're probably right about that, too.
Reverse: Built In 1993

On this day, Duluth, Minnesota mayor Gary Doty cuts the ribbon at the mouth of the brand-new, 1,480-foot–long Leif Erickson Tunnel on Interstate 35. With the opening of the tunnel, that highway—which stretches 1,593 miles, from Mexico all the way to Canada—was finished at last. As a result, the federal government announced, the Interstate Highway System itself was 99.7 percent complete.


[HISTORY]
Neutral: Do You Care Who The Biggest Automaker Is?
And if so, who do you think will be the biggest automaker in 2014? VW? Toyota? GM?
Photo Credit: IMDB.com, Getty Images