The U.S. Department of Justice recently filed a civil lawsuit against Fiat Chrysler for allegedly violating the Clean Air Act by installing undisclosed "defeat devices" on 3.0-liter diesel vehicles. But even though we've heard that term before, this case isn't quite as simple.
The Justice Department's primary complaint is that Fiat Chrysler did not disclose certain software features on 104,000 Rams 1500s and Jeep Grand Cherokees that reduce emissions controls effectiveness, even under certain "normal driving" conditions. To understand this further, let's delve into what these software features really are.
A software device that reduces the effectiveness of emissions equipment under any driving scenario is called an Auxiliary Emissions Control Device, or AECD, and they're totally legal if they're used for the right reasons (for example, to protect the engine from damage while towing).
G/O Media may get a commission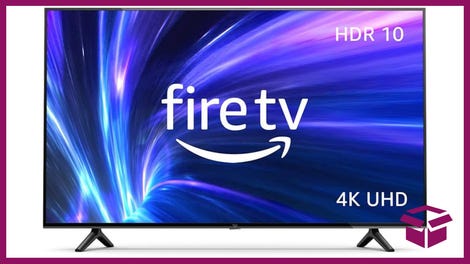 42% Off
Amazon Fire TV 50" 4K Smart TV
Still, automakers have to, by law, disclose all AECDs to the Environmental Protection Agency before receiving the Certificate of Conformity needed to sell cars.
Crucially, automakers have to justify the AECDs and prove that aren't defeat devices, which are defined by the EPA as:
...an auxiliary emission control device (AECD) that reduces the effectiveness of the emission control system under conditions which may reasonably be expected to be encountered in normal vehicle operation and use.
In other words, automakers have to give EPA a chance to make sure that any software that increases pollution is there for a good reason, and that it's not going going to cause excess pollution under reasonable, everyday driving conditions.
But according to the lawsuit, Fiat Chrysler failed to mention eight Auxiliary Emissions Control Devices that change the way two crucial emissions control features work—Selective Catalytic Reduction and Exhaust gas recirculation.
Those eight AECDs are listed below:
AECD #1 (full EGR shut-off at highway speed);

AECD #2 (reduced EGR with increasing vehicle speed);

AECD #3 (EGR shut-off for exhaust valve cleaning);

AECD #4 (DEF dosing disablement during SCR adaptation);

AECD #5 (EGR reduction due to modeled engine temperature);

AECD #6 (SCR catalyst warm-up disablement);

AECD #7 (alternative SCR dosing modes);

AECD #8 (use of load governor to delay ammonia refill of SCR catalyst).

Not only that, but some of the AECDs the company failed to disclose allegedly act as true defeat devices, allowing Rams and Grand Cherokees to pass the EPA's standard barrage of federal emissions tests, but to spew excess levels of NOX under off-cycle tests that the EPA still considers "normal driving."
Note that what constitutes "normal driving" isn't clearly defined in the lawsuit, and some might then be tempted to think it's the EPA's job to make sure government standard dyno tests cover the vast majority of "real world" driving scenarios—if FCA designed to the spec, how can they be in the wrong?
On the flip side, is it reasonable to expect the EPA's handful of tests to represent all types of normal driving? Forcing automakers to disclose all AECDs, and allowing the EPA to make a case-by-case judgement is the simple way to get past this dilemma.
The lawsuit is similar to Volkswagen's Dieselgate in that FCA, like VW, is accused of failing to disclose software that yields excessive pollution under normal, non-extreme driving conditions. Unlike Dieselgate, we don't know why FCA didn't disclose its software, and whether it was a deliberate way to game the system (which FCA vehemently denies) or just an oversight.
FCA's suit appears to differ from VW's scandal in that VW's defeat device actually sensed when the vehicle was being tested by the government on a dyno, and turned up emissions controls accordingly. FCA, on the other hand, appears to have optimized its emissions controls software to the EPA's drive cycles too narrowly, and not focused on keeping emissions down in off-cycle, normal on-road conditions.
Until we know more, the big issue now, though, is that FCA didn't disclose the AECDs. Still, one thing about this lawsuit just seems a bit hard to ignore, and that is the common connection to German auto supplier Bosch.
You may recall that Bosch was allegedly responsible for helping develop VW's defeat device, and that it even warned VW against using the software in production, non-development vehicles.
The Justice Department's lawsuit claims that Bosch was also involved with Fiat Chrysler's 3.0-liter diesel development, saying Fiat Chrysler obtained its engine control modules from the German supplier. The suit goes on, saying that VM Italy and VM north America (makers of the 3.0-liter diesel engine) worked together with FCA to calibrate software onto those engine control modules. But that calibration also allegedly involved input from Bosch, as the lawsuit mentions:
The Defendants frequently engaged in discussions with Bosch regarding calibrations of the ECMs and related ECM software for the SubjectVehicles...The Defendants requested that Bosch change the parameters for certain functions in the ECM software to customize the ECM software for the Subject Vehicles.
Granted, Bosch is one of the most prominent suppliers of ECMs, but still—it's hard to just glance over the common strand between Dieselgate and this new lawsuit. We've reached out to Bosch, and they've responded with this statement:
Bosch takes the allegations of manipulation of the diesel software very seriously. It is a well-known fact that these allegations remain the subject of investigations and civil litigation involving Bosch. Bosch is cooperating with the continuing investigations in various jurisdictions, and is defending its interests in the litigation.
The company went on to say that it really can't comment on ongoing litigation, though it did mention its relationship to automakers, saying:
As is usual in the automotive supply industry, Bosch supplies these components to the automaker's specifications. It is always each automaker's responsibility to calibrate and integrate components into the overall vehicle system, as well as to obtain approval from the local registration authorities.

FCA also responded, saying it's going to "defend itself vigorously." Here's the company's full comment:
FCA US has been working with the U.S. Environmental Protection Agency (EPA) and the California Air Resources Board (CARB) for many months, including extensive testing of the vehicles, to clarify issues related to the Company's emissions control technology in model-year (MY) 2014-2016 Jeep® Grand Cherokee and Ram 1500 diesel vehicles.
 
FCA US is currently reviewing the complaint, but is disappointed that the DOJ-ENRD has chosen to file this lawsuit. The Company intends to defend itself vigorously, particularly against any claims that the Company engaged in any deliberate scheme to install defeat devices to cheat U.S. emissions tests.
 
As FCA US announced last week, it has developed updated emissions software calibrations that it believes address the concerns of EPA and CARB, and has now formally filed for diesel vehicle emissions certification with the regulators for its 2017 model year (MY) Jeep Grand Cherokee and Ram 1500 diesel vehicles. Subject to the permission of EPA and CARB, FCA US intends to install the same modified emissions software in 2014-2016 MY Jeep Grand Cherokee and Ram 1500 diesel vehicles. FCA US believes this will address the agencies' concerns regarding the emissions software calibrations in those vehicles.

FCA expects that the installation of these updated software calibrations will improve the 2014-2016 MY vehicles' emissions performance and does not anticipate any impact on performance or fuel efficiency.


Notwithstanding this lawsuit, the Company remains committed to working cooperatively with EPA and CARB to resolve the agencies' concerns quickly and amicably.

As this mess unfurls, we'll likely learn more about how the undisclosed software works, and about both Fiat Chrysler's and Bosch's role in the decision to leave those eight AECDs out of the Certificate of Conformity application.
The best case for FCA is that they put those AECDs in to protect the vehicle, and just forgot to tell the EPA. Worst case, an investigation finds emails indicating a deliberate omission of those eight AECDs to try to pull the wool over the EPA's eyes. Either way, it looks like FCA could be in trouble.