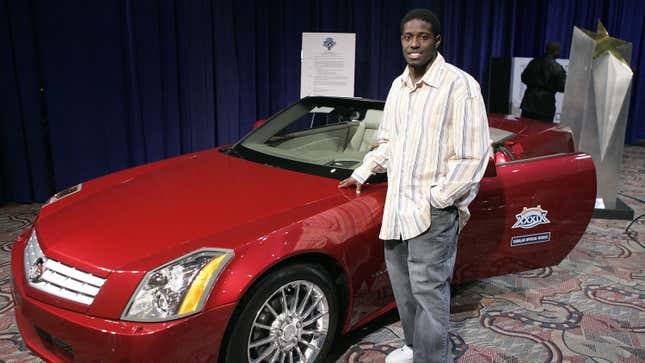 The Super Bowl is famously known for its commercials. It might be the most-watched sporting event in the United States, but some people watch the big game just for the ads. The commercials aren't the only aspect of the National Football League's championship game that receives corporate sponsorship: The halftime show is now sponsored by Apple Music, after a long relationship with Pepsi came to a close.
But there's another corporate Super Bowl tradition that has fallen by the wayside in recent years: Awarding a new car to the game's most valuable player, a ritual that ended seven years ago. It originally began when General Motors awarded Green Bay Packers quarterback Bart Starr a brand new Corvette after the first Super Bowl in 1967. Starr won a second Corvette in 1968. The GM tradition continued until 2015 when Tom Brady, quarterback for the New England Patriots, won a Chevrolet Colorado. Brady immediately gave the truck away to a teammate.
After 2015, Hyundai took over from General Motors as the official vehicle partner of the National Football League. The Korean automaker wasn't so keen on handing out free cars, putting an end to the Super Bowl giveaway and only once handing out a pair of Genesis coupes to the MVPs of the Pro Bowl.
According to Automotive News, Hyundai found more value in sponsoring teams and broadcasts than it did handing out cars. Hyundai Motor America chief marketing officer Dean Evans said in 2018, "you can buy the sponsorship, and then if you don't have enough money to run enough TV commercials, you almost don't look like the sponsor."

It makes sense for car manufacturers to buy ad time on television — the automaker fully controls those 30 seconds. When a car company gives a car to a famous athlete, the athlete might ditch their new car in a matter of days, sometimes publicly — putting a negative spin on something the automaker hoped would give some celebrity shine to its product.
Hyundai ended its partnership with the National Football League in 2019. No automaker has taken up the mantle since.