Yesterday morning, an unmanned SpaceX Falcon 9 v. 1.1 rocket carrying a Dragon cargo capsule to the International Space Station (ISS) exploded shortly after launch. While this is a setback to SpaceX, we have to view it in the context of a series of failures that have plagued commercial spaceflight in the last year.
Liftoff of CRS-7 from Space Launch Complex 40 at Cape Canaveral Air Force Station, Florida
SpaceX isn't the only commercial space venture to suffer a recent catastrophic malfunction. Moreover, yesterday's Falcon 9 mishap (officially designated CRS-7, for the seventh flight of the Dragon cargo ship to the ISS as a part of NASA's Commercial Resupply Services contract) is the third recent cargo resupply mission to the ISS that has ended in failure. The first occurred on October 28th, 2014, when Orbital Sciences lost an Antares rocket carrying a Cygnus cargo craft in a massive explosion moments after launching from Wallops Island, Virginia.
G/O Media may get a commission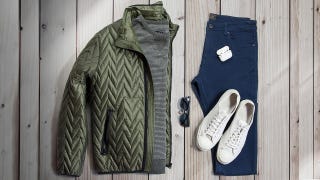 60% off
Jachs NY Fall Sale 60% Off
The Antares rocket explosion caused $20 million in damage to the Wallops Island launch facilities and completely destroyed the entire payload, which also included an Arkyd 3 satellite from asteroid mining startup Planetary Resources. The fireball and shockwave created an enormous crater, imploded doors and broke windows in support buildings, and toppled two lightning protection towers.
Just two months ago, on April 28th, 2015, Russia's Progress 59 unmanned cargo vessel malfunctioned after achieving orbit, causing it to spin dizzily out of control (if you've seen Gravity with Sandra Bullock, you'll be thankful you weren't onboard!) Russian mission control was unable to resolve their crippling navigation issues, and Progress 59's orbit eventually decayed until it disintegrated in the upper atmosphere.

The failure of Progress 59 to resupply the ISS immediately preceded yesterday's SpaceX Falcon 9 failure. Despite these two very unfortunate back-to-back failed attempts, the crew of Expedition 43 on the ISS are in no danger and still have plenty of supplies on hand to sustain them for several more months. The next cargo resupply mission is scheduled for July 3rd, 2015, when Russia's Progress 60P spacecraft will attempt to rendezvous with the ISS.
A SpaceX Dragon cargo capsule being pulled to its docking port on the ISS via Canadarm2
Taking inventory of these three cargo resupply mission failures, one might wonder if a private company like SpaceX or Orbital Sciences is really capable of enduring the embarrassing loss of a launch vehicle in such a spectacular fashion. Even with the backing of NASA, can a commercial venture absorb the negative press and the delays in returning to flight? Can they reassure customers that their vehicles are safe and reliable? Also, what would be the consequences of a launch failure if the payload had been humans?
Unfortunately, such a scenario involving the loss of human life in commercial space travel already exists. Just days after the Orbital Sciences Antares rocket explosion, on October 31st, 2014, Richard Branson's Virgin Galactic lost a prototype SpaceShipTwo spacecraft called VSS Enterprise over the Mojave Desert, killing co-pilot Michael Alsbury. Scientists initially suspected that the vehicle's hybrid rocket motor played some nefarious role in the accident, but the engine was soon found intact and without obvious signs of damage. This points to a different reason for the ship's destruction.
Later, it was discovered that the swivel mechanism which modulates the position of the spacecraft's feather-able tail section was left unlocked—a procedure that should have been checked by the co-pilot. This is a strong indication that pilot error was likely a major contributing cause of the Virgin Galactic mishap.
Wreckage of Virgin Galactic's SpaceShipTwo prototype in the Mojave Desert, November, 2014
Evidently, SpaceShipTwo's rudders unexpectedly swung into the feathered position nine seconds into the 70-second rocket burn, which had the effect of increasing drag while the rocket continued to accelerate towards its maximum velocity.
This would have caused SpaceShipTwo to break apart, as facets of the airframe were exposed to forces they were never designed to withstand. It should be noted that the NTSB hasn't commented on their investigation since their preliminary report in November 2014, and a full review could take one year from the time of the crash.
Space Shuttle Challenger exploding on January 28, 1986
We understand that spaceflight is a very risky business. NASA tragically lost space shuttles Challenger and Columbia along with 14 astronauts in two separate accidents, which were among the darkest days in the space agency's history. In 1971, the entire three-person crew of Soyuz 11 was killed in space when their service module depressurized after undocking from the space station Salyut. Even when astronauts aren't flying, human spaceflight is enormously precarious. All three of Apollo I's crew were killed in a fire during a ground test of their capsule in 1967.
Astronauts Roger Chaffee, Edward White II and Virgil "Gus" Grissom, crew of Apollo I
Despite how terrible and heart-wrenching these accidents feel, humans have always applied lessons learned from tragedies such as these towards developing safer systems and practices in the future. The value of these applied lessons extends beyond just improving spaceflight technology—NASA's culture of "groupthink" that contributed to the Challenger incident is now studied in classrooms all over the world, leading to more effective group dynamics and improved communication.
As of 1:09AM PST on June 29th, SpaceX engineers had spent "several thousand" hours poring over Falcon 9's telemetry data to understand exactly what went wrong with yesterday's launch. The precise cause of the Falcon 9 explosion will be uncovered eventually, and a remedy for the issue will be implemented on future flights.
Similarly, Wallops Island is being repaired and will harbor rocket launches in 2016. SpaceX is also getting closer and closer to recovering a Falcon 9 rocket on a robotic barge, which would finally make rockets truly reusable and prove the technology necessary to bring commercial spaceflight costs down even further.
Lightning arrestor tower knocked down after the Antares rocket explosion at Wallops Island
Meanwhile, construction of Virgin Galactic's second SpaceShipTwo vehicle is well underway, and the venture announced a contract last week with OneWeb for 39 satellite launches (with options for an additional 100 launches) using the LauncherOne system. LauncherOne uses much of the same infrastructure as SpaceShipTwo, namely the same mothership (WhiteKnightTwo). This shows that despite the loss of life in last October's breakup of the VSS Enterprise, Virgin Galactic appears to be on steady footing.
AJ26 engine static test firing
Orbital Sciences has replaced the Russian-designed AJ26 engines suspected of causing the October explosion with RD181 engines, also made in Russia, which have a much more reliable reputation. The company expects to receive the first of the new RD181 engines in mid-2015 and will fly an updated Antares rocket in 2016. Orbital Sciences and SpaceX remain the two private companies contracted to fulfill NASA's Commercial Resupply Services cargo missions.
If mistakes and mishaps must happen, then this is the point in the Commercial Resupply Services program when they would most ideally occur. These incidents have all taken place before the Commercial Crew program begins in December 2017, in which capsules and rockets derived from the Commercial Resupply Services cargo program will carry humans to the ISS. Space X's crew-rated Dragon capsule (based on the Dragon cargo capsule) as well as Boeing's CST-100 capsule will provide NASA's Commercial Crew transportation services.
William H. Gerstenmaier, NASA's Associate Administrator for Human Exploration and Operations, stated that lessons learned from losses in the cargo program, such as the SpaceX Falcon 9 explosion yesterday, "can be really important as we move forward into the crew designs and flights. So, we can understand if there's a problem or a concern, what occurred, and when we get that data we will see if it impacts crew, but it gives us a chance to learn in an environment where we can tolerate a little more risk and that shows the overall strength of the strategy."
Planners always count on some risk when designing mission architecture, which explains why the crew of Expedition 43 isn't evacuating the ISS right now due to food and oxygen shortages. Similarly, Orbital Sciences collected a $55 million insurance payment after the loss of their Antares rocket, which mitigated at least some of their exposure from the incident. SpaceX will overcome this setback, and has likely taken steps to manage the risks of a difficult loss such as yesterday's. The entire Commercial Resupply Services program and subsequent Commercial Crew program was designed to shield human loss of life from accidents stemming from early development issues by flying very similar hardware on cargo missions first.
A launch failure or malfunction in orbit is upsetting news for all constituencies of human spaceflight, from NASA to any of the aforementioned players in the private sector to the US Air Force, which recently certified SpaceX rockets for military payloads. Even though the SpaceX team is currently stunned as a result of the Falcon 9 explosion, in no way do these circumstances spell disaster for the entire organization or the Commercial Crew and Cargo Program (C3PO). By all accounts, the state of the domestic commercial launch industry is still very strong.
After the retirement of the three remaining space shuttles four years ago in July 2011, the U.S. still does not have an indigenous spacecraft capable of taking our own astronauts to space. The next American astronauts to ride into space aboard spacecraft designed and built in America will do so on launch vehicles benefiting from the multitude of lessons learned in recent Commercial Resupply Services cargo mission failures. It certainly won't be easy to sift through the telemetry data in search of the explosion's cause, but considering that the cargo program will become a crew program in just a few years, the work could be among the most vital the American space industry has ever done.
CRS-7 seconds before yesterday's catastrophic explosion
Image Credit: CRS-7 explosion .gif via YouTube, CRS-7 liftoff - John Raoux/AP, Dragon and Canadarm2 - NASA/AP, SpaceShipTwo Mojave wreckage - Ringo H.W. Chiu/AP, Space Shuttle Challenger explosion - Bruce Weaver/AP, Apollo I crew - NASA/AP, Wallops lightning tower down - Steve Helber/AP, AJ26 static test fire - Rocketplane Kistler/Wikicommons, Commercial Crew Program patch - NASA/Wikicommons, CRS-7 in flight before explosion - John Raoux/AP