Before I start talking to you about why the Mercury Marauder deserves future classic status, I want to start by talking about biology. Specifically, evolutionary biology, and the concept of the "apex predator." It's science-learnin' time!
An apex predator is, essentially, an animal that has no predators of its own. It is at the top of its food chain. Wolves, crocodiles, killer whales, tigers, and possibly the Tyrannosaurus Rex also (although I like to think it is.) It has no natural enemies that can take it down.
By the late 1990s, Ford's Panther platform had become an apex predator. Offering body-on-frame construction, rear-wheel drive a huge trunk, massive amounts of room, and gas-guzzling V8s, it had in many ways become the ultimate evolution of the classic American car setup. While other cars competed against the Ford Crown Victoria, Mercury Grand Marquis, and Lincoln Town Car, there were no other cars that shared its time-tested construction.
But the Panther cars were the best at what they did. Just look at the seemingly infinite number of Crown Vic police cars and Town Car black cars still in use today, though they're eventually — and in many cases, begrudgingly — getting phased out. Jalops and other car enthusiasts don't need to be convinced of how awesome they are.
G/O Media may get a commission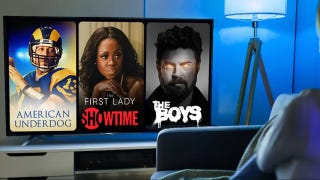 UNDER $1
99¢ Prime Video Channels
Out of all the Panther cars, I would argue that the 2003 and 2004 Mercury Marauder was the greatest, the final form of this great apex predator.
Essentially, the Marauder was a hot rod version of the Grand Marquis cobbled together with other parts from the Panther line and other Ford cars. Taking its name from Mercurys of the 60s, it was a Panther built for performance, for smoky burnouts and ass-kicking, not hauling grandma to church or picking someone up at the airport. The Marauder was the street fighter of the Panther family. Character? Try attitude, not character.
The Marauder had kind of an odd development process. It first showed up at the 1998 SEMA show as a concept where it packed a supercharged 4.6-liter V8 good for of 335 horsepower and 355 pound-feet of torque, the version that finally debuted in 2003 was less potent.
But it was still an improvement over the staid Grand Marquis in nearly every department. They ditched that car's 235-horsepower, 4.6-liter SOHC V8 for a dual-cam version from the Mustang Cobra that was good for 302 horsepower and 318 pound-feet of torque. Those were decent numbers for an American V8 back in the day.
The taillights came from the Crown Vic, the front springs came from a Police Interceptor, the rear air springs came from a Town Car, and it ditched the Grand Marquis' plush front bench seat for buckets and a floor shifter for the four-speed autobox. You got other goodies too, like a growly exhaust, revised gauges that included temperature, oil pressure gauges, and a voltmeter, a revised suspension, and a 3.55:1 rear axle with a limited slip diff.
Oh yeah — and in old-school Ford fashion, it only came in one color at first: black. As in, "You can have any color you want as long as it's black." Coupled with the downright badass name and you have what is easily one of the most sinister cars ever made. (Of course, other colors like red and silver were added later on.)
Here's what Car and Driver had to say back in 2003:
Compared with previous Panther platforms, this one is the Rock of Gibraltar—more rigid by half, less prone to body shivers and subassembly squirm. That's mainly due to a new frame with straight side rails and beefier crossmembers. But some of the credit goes to the Tokico nitrogen, monotube shocks—mounted outboard of the frame rails at the rear—as well as firmer anti-roll-bar bushings in front, less rubbery body-to-frame bushings, rear load-leveling air springs, and front springs lifted from the Vic police cruiser.

[...] On back-country roads, you feel it instantly: The Marauder is firm, flat, stable, composed. Roll control is terrific for a sedan so large, especially useful in 50-to-70-mph sweepers, where the nose takes a set and is prescient about tracing a single, clean arc. On-ramps are a ball.
From this you might think the Marauder some sort of big, bad American M5-hunting beast, a sport sedan so mean and so ferocious that it became a kind of boogeyman story that BMW engineers told their children? Not really. The Marauder had one critical deficiency: it wasn't really all that fast, unfortunately.
Zero to 60 mph times were in the mid-7 second range, and Automobile found a quarter mile time of 15.6 seconds at 94 mph. "Respectable, but not intimidating." The car was lacking in low-end torque and it just had too much weight to carry, reviewers said. It wasn't slow, it just wasn't a world-destroyer.
The Marauder soldiered on for just two model years, 2003 and 2004, and only about 11,000 were ever sold. (When you get down to it, this was probably the last cool Mercury of any sort.)
Despite the slight deficit in performance, the Marauder deserves Future Classic status for a few reasons. For one, there's the rarity of the car, and its relative obscurity outside of Panther circles. Edmunds sums it up well here:
Still, the Mercury Marauder's lack of success as a new model pretty much guarantees rarity as a used model. We can recommend it without reservation for a used car shopper in search of a traditional full-size sedan with lots of room and V8 power, topped off with a healthy dose of attitude and uniquely American style.
And then I'll loop back to what I said earlier about apex predators. The Panther is a dinosaur now, a relic, already out of production and headed for eventual extinction as the cars on the road go through their natural lifespans. Nothing has really ever replaced them — Ford, Chevrolet and Dodge can make all the big sedans they want, but no car will ever match the body-on-frame Panther's utility, toughness and size.
We Jalops love Panthers. So do many enthusiasts who appreciate their unique abilities and robustness coupled with comfort. It could be argued that since the Marauder combined the best of all the cars, it could be considered the very best Panther, even if it wasn't successful in the mass market.
I could see the car becoming quite coveted among American muscle enthusiasts some day, and to many it already is. And by sheer virtue of that engine, it's also got a ton of potential as a tuner car — just Motor Trend, who once sampled the supercharged VT Competition Marauder good for 430 horsepower. This cut that zero to 60 mph time way down to 5.1 seconds. Yeah, buddy. Build one of these up and you'd have quite the sleeper on your hands.
The Marauder was a badass car. Hopefully, it will one day get the love and respect it deserved all along. Panther Love!
This is Future Classics, a new, semi-regular feature where we identify amazing and unappreciated cars from the late 90s, 2000s, and today that could be highly coveted by future generations. You may want to pick one of these up while you still can!