Get ready, America, because a hybrid Ford Mustang is comin' for ya in 2020. This is a good thing. A good thing! It's about time some automaker has done what Ford's about to attempt.

To put it simply, the world is in need of a decent, affordable hybrid sports car that doesn't suck. We want something that can move its ass quickly and in a way that will get our blood pumping and our adrenaline rushing. We want something that looks cool, that our in-laws would be jealous of when we bring it around for Thanksgiving.
We already know this much is possible. Look no further than the Porsche 918, the McLaren P1 and the Ferrari LaFerrari. And the Koenigsegg Regera, even. But the problem with these cars, as incredible as their hybrid performance may be, is that they are so astronomically expensive that they can really only exist in the abstract for most of us. And so, by extension, do their powertrains. The world has been craving a decent, electrified performance car for around $30,000 or so for some time.
We also already know that adding an electric motor to a regular car doesn't make it boring and dull, like a Prius. The Honda Accord hybrid was one of the first normal cars to add more power via hybridization, but it didn't sell very well. It might have had something to do with being a Honda Accord. I'm not knocking the Honda—it's a great car—but for most buyers who want excitement and fun, they don't immediately think of an Accord. There was also the CR-Z, which attempted to be a sporty car and a gas-sipping hybrid, but wasn't especially great at either.
G/O Media may get a commission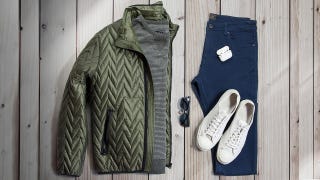 60% off
Jachs NY Fall Sale 60% Off
Enter the Mustang. When it came out in the early 1960s, it was aimed at young people looking to buy a fun and sporty car. It was affordable. In other words, the enthusiasts. You and me.
Today, the Mustang is still within the price range of many and carries the sports car heritage we love. Introducing a hybrid variant to the Mustang bloodline is a smart move because it would help enthusiasts become more open to the idea of a hybrid sports car and help eliminate the "Hybrid Equals Prius" prejudice that quite a few still carry.
In the press release that accompanied the hybrid Mustang announcement yesterday, Ford said that it will "deliver V8 power." Now, which V8's power remains to be seen, but nonetheless, Ford's intention is clear: this is a car that will be meant to stir up some excitement in your cold bones.
Keep in mind that this isn't the first time that Ford has created an eco-friendly Mustang either. The EcoBoost Mustang has a turbocharged four-cylinder engine and it's quite good. It's so good, in fact, that it's probably replacing the V6 Mustang.
Of course, there will be purist backlash against the hybrid Mustang. Of course. But nowhere did Ford say that it's eliminating the V8 Mustangs. If you still want a Mustang with eight thundering cylinders in 2020, ain't nobody going to stop you. You don't like the hybrid Mustang? Then don't buy it.
But if you want a hybrid drivetrain with, supposedly, loads of low-end power in a Mustang body—while being fuel-efficient at the same time—then I think your way is clear.
Ford didn't announce how much the hybrid will cost among its purely gas-driven brethren, but I personally hope that it's not terribly more expensive than the base model. Certainly not more than the 5.0-liter Mustang.
In order to really do away with the hybrid stigma, Ford needs to make the hybrid Mustang as attractive as possible and one of the most effective ways of pulling that off is by keeping the price down. Here's to hoping.