Welcome to Future Classics, a new, semi-regular feature where we identify amazing and unappreciated cars from the late 90s, 2000s, and today that could be highly coveted by future generations. You may want to pick one of these up while you still can!
When it comes to car design, "retro" is easy enough to do. Take something old, make it look a little newer, and then watch the nostalgia crowd flock to it. But "timeless"? Timeless is a hell of a lot harder to pull off.
The first Audi TT is timeless. It looked amazing when it first debuted in the late 1990s, and it still looks amazing today. Were it to be released in 2013, it would likely be bigger and with more airbags, but it would still look equally as timeless, as it will decades from now.
G/O Media may get a commission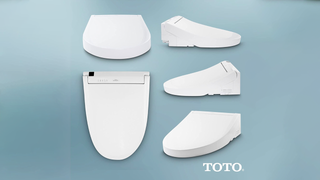 44% off
Toto Washlet Electronic Bidet Toilet Seat
A bit of history: Audi dropped a bomb on the car world at the 1995 Frankfurt Auto Show with the TT Design Study, styled by a dream team that included J Mays, Peter Schreyer and Freeman Thomas. The same group also penned the monumental Volkswagen New Beetle, which, despite what opinion you may have on that car, was unquestionably a design triumph. As is rare in the car world, the TT stayed remarkably close to its concept.
Audi's team drew inspiration from Bauhaus, a German design school from the early 20th century that prioritized a simplistic, geometric, clean industrial look. The design language was a hit with the TT and carried over to many of Audi's other cars of that era.
Its name either comes from the famed Tourist Trophy motorcycle race that Audi predecessor NSU used to run in, or "Technology & Tradition," depending on who you ask. I like the former better myself, even if it's not a bike.
The production TT debuted in 1998. While its exterior was eye-catching, its guts were more humble: it rode on the same platform as the Volkswagen Golf and Audi A3 of the time. Power came from a 1.8-liter turbo four putting out either 180 horsepower or 225 with a bigger blower. Power was put down to either the front wheels or quattro all-wheel-drive. A topless roadster version came out the following year.
The eye-catching design carried over into the interior, which was one of the more interesting places to spend time in the 1990s. At the time Automobile praised the combination of leather, aluminum and stainless steel inside, saying "no other car in the world has an interior like the TT's."


But its economy car underpinnings took its toll on the car's performance. In 2001 Car and Driver gave high marks to its comfort, but also dinged its shifter, not-terribly-quick zero to 60 time, rattles and understeering tendencies.
The TT also struggled behind some of its sports car competition, like the BMW Z3, Porsche Boxster and Nissan 350Z. It arguably looked better than all of those cars, but it couldn't hold up in the speed department.
Regardless of this, it is rather fun to drive, and an able corner-carver.
Audi was able to beef things up towards the end of the TT's first run by adding a 247-horsepower 3.2-liter VR6, a mellifluous and powerful engine that tends to make everything better.
The first TT was replaced in 2006 with a larger car that, while attractive and commendable for giving us the insane five-banger Audi TT-RS, simply doesn't have the classic good looks of its predecessor. I actually think that car now looks more dated than the first one.
These days a first-gen TT can be had for relatively cheap. A search on Cars.com shows that one can be obtained for well under $15,000, or even $10,000 in some cases, though caution (or mechanical prowess) should be exercised when purchasing a late 90s Volkswagen Group product. To steal a line from Matt, "The most expensive car you'll ever buy is a cheap Audi."
But in a few years, the car's great styling may just be worth it, even if it's only for a weekend car or something similar. Is owning one of the best looking cars of the 1990s worth a few mechanical hassles? I say yes.
Like any great future classic, the TT is a car that wasn't really appreciated all that much in its heyday. It was criticized for its pedestrian Golf underpinnings, for not being as hard-edged as some sports cars, for famously being a "hairdresser's car."
I don't think future generations will see it that way. I think that in years to come, it will be driven by people who put a real priority on design, like the people who drive a Porsche 356, a Volkswagen Karmann-Ghia, or a Volvo P1800 today. It will be not be for someone who wants to autocross it, but for someone who appreciates aesthetics.
Mainly, it will be a future classic because that design will always look pretty, no matter what.
Future Classics is a new feature we're trying out on Fridays. What car from the last 15 years or so do you think will be sought after years from now? Feel free to give us some ideas in the comments.