Super Bowl XLV. Eminem. Imported From Detroit. American grit. Never say die. Gets me right in the feels every single time. There was only one problem with that ad: The Chrysler 200 was terrible. It was a car the all-new 2015 Chrysler 200 is trying to make up for.
The only thing the new 200 shares with the old car is its name. That's a good thing. The outgoing 200 and its predecessor, the Sebring, were based on an aging architecture from the MitsuChrysler era and were among the more uninspiring sedans (and convertibles!) on the market.
Nobody will say that about the new 200. Inside and out, it's an impressive, high quality, high tech car packed with style and the kind of innovative technology that shows just how damn good American cars can be these days. It deserves to steal some sales away from the hordes of Camrys, Accords and Altimas out there. The question is, can it and how many?
(Full disclosure: Chrysler needed me to drive the new 200 so badly they flew me to Louisville, Kentucky and paid for my hotel room, food and booze, which was mostly bourbon Because Kentucky. I was also really paranoid that I would get Jeff Gordon'd at some point on the trip, but that never happened because he probably has other stuff to do.)
G/O Media may get a commission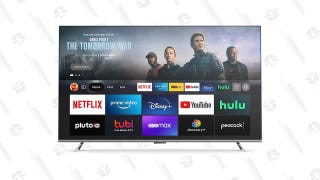 Save 46%
Fire TV 55" Omni Series 4K UHD Smart TV
FUN FACT! Did you know one of every six cars sold in America is a mid-size sedan? Yes, despite our newfound love of crossovers and our longtime affair with the pickup truck, we're still a Sedan Nation. It's a critical segment, and nearly every offering in it is very good these days. You have to bring your best Kung Fu to the midsize sedan game.
Sales are just one reason the new 200 is a big deal for Chrysler. In a larger sense, it symbolizes their attempted comeback perhaps more than any other new car in their lineup.
It's the product of a $1 billion investment at the Sterling Heights Assembly Plant in Michigan, a plant that was once slated for closure during the Carpocalypse and is now one of the most high-tech automobile factories anywhere, and home to some 900 new jobs. Its body shop is also full of robots that ensure the 200's fit and finish is as perfect as possible. Wooo American manufacturing!
The 2015 Chrysler 200 comes in four different trim levels: base LX, slightly nicer Limited, more sporting-y 200S and the premium 200C. I got a chance to sample all but the base car.
Like I mentioned earlier, the new 200 dumps the old car's platform and exchanges it for the Alfa Romeo-sourced platform (thrillingly called Compact U.S. Wide) that underpins both the Dodge Dart and the new Jeep Cherokee. It's heavily reworked from the Dart, lengthened by several inches and features a completely revised suspension.
The 200 gets new engines, too. You can either have the 2.4-liter, MultiAir-equipped TigerShark four cylinder putting out 184 horsepower and 175 pound-feet of torque or the 3.6-liter Pentastar V6 with 295 horsepower and 262 pound-feet of torque.
Front-wheel drive is standard, but the V6 can also be had with a very trick all-wheel drive system which I will touch on in a moment. Chrysler expects the volume will be in the front-drive four-banger models.
It also boasts a ZF nine-speed automatic transmission as standard equipment, the only car in this class that does. The 200 laughs at your midsize sedan's measly six gears!
The Look
The midsize sedan segment may be the biggest seller in America, but visually speaking, it's probably also the most boring. The Ford Fusion and Mazda6 are the only truly good-looking cars in that group. The old Sonata is noticeable but garish.
Until now, anyway. I think we can add the 200 to that list. It's an attractive car when you see it on the Internet, and it's even more striking in person. It's sleek, streamlined, and dare I say even elegant.
There are a bunch of nice design touches throughout. I like the coupe-like profile, the wide shoulders on the rear fenders, and the slightly-elevated spoiler that's integrated into the decklid. It's one of the most aerodynamic sedans around and it looks the part.
Also, those LED taillamps each create one half of the Chrysler wing emblem, so when you park two next to each other they form the whole thing.
I'm also a fan of the front end, which I'm told was the result of a lot of trial and error by Chrysler designers. The floating wing emblem is a nice touch, and so are the headlamps integrated into the grille itself. It's got a handsome face, and one we can expect to see on future cars.
Is it distinctive enough? I see touches of the Audi A4, Ford Fusion and even the new Chevrolet Malibu in its overall design. I don't consider that a bad thing, though, because all those cars are pretty appealing, and so is this one.
The Interior
Unlike the fiesta of boringness you get with most midsize sedan interiors, the inside of the 200 is actually a pretty pleasing place to be.
Things I liked, in no particular order: the attractive and comfortable steering wheel, the big info screen between two large and easy to read gauges, the deep storage bins in the center console, the soft touch materials, the comfortable and wide leather seats, the general shapes of the various interior elements, and the big, hollow opening below the gear selector where you can hide your stuff.
Speaking of the gear selector, it's a rotary dial-a-gear knob instead of a traditional stick. Done for space saving reasons along with the electric parking brake, it takes a little getting used to, but it works just fine after a while.
That's for the upmarket 200S and 200C, anyway. I also drove a more base model 200 Limited with cloth seats and the basic infotainment system and smaller screen. It isn't something I would describe as "dazzling."
Let's just say it will make a fine enough rental car, but the 200 works best when you splurge for some of the nicer options. Then it feels like a true premium car, and not just a car that's pretending to be one.
In other reviews, much has been made of the 200's rear seats. It's taken fire for that low roofline, the ease of entry into the back seats, and rear legroom. Sedan buyers care about stuff like that, you know.
I sat back there, and I think the criticism is a little overblown. Due to the car's profile, rear seat entry is maybe just a bit tighter than some of the competition, but it's certainly not bad; rear legroom felt fine to me too. I'm a smidge under six feet tall, so found the headroom to be a little on the tight side, but not so tight that I'd be uncomfortable on a long trip. It's not a great place for the very tall, but how often do you carry giants around in your back seat?
The Drive
I had the chance to sample three 200 models: a modestly equipped 200 Limited, a much more loaded four-cylinder front-drive blue 200S you see in these photos, and a V6 all-wheel drive 200S.
I spent most of the drive in that car because it seemed to be the most up the Jalopnik alley. From its spec sheet, you might expect the AWD V6 to be a legit sport sedan, a hard-edged competitor to the likes of the WRX. I'm here to tell you it's not, but then again, it's not supposed to be.
But the 200S was capable and even fun in twisty back roads. While it makes the car nose-heavy, the Pentastar V6 provides strong acceleration and ample passing power, and it comes with a very satisfying, throaty exhaust note. It's not the ridiculously quick, you have no business being in a family sedan V6 that the Honda Accord has, but it's got more than enough grunt for everyday use.
Chrysler clearly geared the 200 to aim more for comfort than corner carving, but the car still handles competently. The chassis is well sorted; the car stays largely flat in the corners with just a touch of body roll, and the electric steering was direct, well-weighted and generous with feedback. Honestly, it was better in on the Kentucky back roads than I expected it to be. It isn't quite as sharp as the Mazda6, but it's more of a handler than most.
The AWD system has a neat trick. In order to reduce "parasitic loss" on the drivetrain and boost efficiency, the rear axle is completely disconnected at the transfer case and power unit when all-wheel drive is not needed. When it is, up to 40 percent of power can go to the rear wheels, or 60 percent in sport mode. You can feel that power in tight hairpin corners at high speeds, but otherwise it behaves like a front driver until there's wheel slippage.
Noise, vibration and harshness are never a problem here. The car is generally very quiet and does a stellar job of cutting out road and tire noise. You'll hear that exhaust on the V6 (because you'll want to) and not much else, which is what buyers in this segment want.
The 200S I drove also made use of paddles on the steering wheel for the manual shifting of the gears. Sadly, the nine-speed automatic on these preproduction cars seemed to have some teething issues. (This isn't the first time this has happened.) It's great for holding gears when sport mode is dialed in, but it would often hang three or four seconds before upshifting.
Quick shifts between reverse and drive were jerky and often laggy. Chrysler assured me a new calibration is coming for the cars people will actually buy, and I hope that's the case.
As for the Tigershark four in the 200C and 200 Limited, it's... uh, adequate. For people who just care about fuel economy and saving money, its power output will be fine. I wish it stood out more. Then again, the base model four-bangers of its competitors like the Camry and Altima aren't much to write about home either, so it's in good enough company. The V6 is the driver's choice.
The Toys And Tech
UConnect! Also known as The Infotainment System I Least Want To Take Out Back And Murder With A Rusty Shovel. Actually, that's not fair. UConnect is actually very good, and the more I use it the more I think it's probably the best out there now.
The UConnect 8.4 system on the upmarket 200S and 200C is big, clear, easy to read, intuitively laid out, and free of any lag. The screen has all the standard gizmos like navigation and a backup camera, and for the functions you use most — like A/C and stereo controls — there are redundant knobs below the touch screen for extra ease of use.
What else? Adaptive cruise control, standard push button start, a cruise control option that stops and goes automatically when you're stuck in traffic, a WiFi hotspot, LEDs in the lamps, a panoramic sunroof, a feature that reads your text messages out loud, and all the safety features you expect in a modern car like blindspot and collision warning systems. You can get a lot of stuff, basically.
The Verdict
If it sounds like I liked the Chrysler 200, it's because I did. It looks good inside and out, it has some impressive equipment, and optioned out correctly, it's believable as a near-premium car.
Chrysler let us drive four sedan rivals — Altima, Camry, Fusion and Accord — at various price levels for comparison purposes, and I think the Mopar holds up well against all of them. It certainly has more character and a better design than the Japanese cars, and the V6, AWD 200S was more than $5,000 cheaper than a loaded AWD Fusion Titanium with a much less powerful turbo four. Like I said earlier, the 200's V6 can't match the Accord's, but it's still good.
Price is where the car makes a strong argument for itself. It starts at just $21,700, and with front-wheel drive and the Tigershark the 200C was basically loaded at $31,470. The V6 AWD car came in at $34,465. Not bad for all you get. I'd like to see how the more upmodel 200s do against rivals from Buick and Acura.
Think of it as the opposite of cars like the 2015 Audi A3 and Mercedes-Benz CLA, which have fancy badges and start with low base prices but get expensive very fast once you start adding the options you'd expect on a luxury car. The 200 makes a solid case for itself in the value department, and it does it in a stylish, fun to drive manner that never feels cheap or under-engineered. And it's made in America, too, if that sort of thing matters to you.
If you're in the market for a sedan, you really ought to consider the Chrysler 200. That's a sentence I never thought I'd write, but here we are.