After Volkswagen was caught cheating its emissions tests with trick software, another rumor of Volkswagen cheatery popped up in motorsports. Could the Volkswagen team be using traction control to win at Global Rallycross, where driver aids such as traction control are expressly banned?

Scott Speed and Tanner Foust seemed almost untouchable at Global Rallycross weekend at the Port of Los Angeles. To some, an Instagram video of Speed's launch from series commentator Toby Moody provided an explanation. Wheels stop and start as the Beetle struggles to find grip, hinting that the they may be running traction control.
Here's the video that everyone's been talking about, where you can see the wheels of Scott Speed's Andretti Autosport Volkswagen Beetle slow and pause independently of each other, suggesting that a system on the car may be diverting power to other wheels as it detects one wheel is slipping:

To contrast, here's a slow motion video Moody took of Steve Arpin's launch at the GRC round at Washington, D.C.
G/O Media may get a commission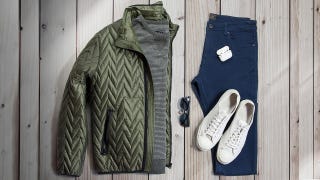 60% off
Jachs NY Fall Sale 60% Off
The front wheels start spinning before the rears here–likely due to a handbrake being on–but there's no small pauses in the wheels like you can see on Speed's car.

Volkswagen and Andretti both declined comment on the behavior of the wheels in the video. VW driver Tanner Foust also denied the cars have traction control, saying that all cars look that way from driveshaft flex.

Traction control works by detecting slip in wheels and diverting power away from those slipping wheels over to wheels that aren't slipping. The result is that the car puts down the maximum power it can put to the ground, and the car is better at keeping that power down in standing starts and tight corners on loose surfaces.

It's technology that can save lives in the real world. Problem is, driver aids like traction control are specifically banned in this racing series.
Andretti Autosport's own site for the team even mentions starts its explanation on the series with, "Global Rallycross (GRC) features vehicles without electronic traction aids."

Naturally, several of the other teams picked up on the bizarre motion of Scott Speed's wheels on the Instagram post, adding their own comments to that effect.
Drivers including Rhys Millen (rhysmillenracing), Bucky Lasek (buckylasek) and Nelson Piquet Jr. (piquetjr) chimed in with snark and condemnation of the apparent use of an illegal system on the thread.

Several of the members of the Hoonigan Racing team chimed in, including Digital Media Manager Ron Zaras (roncar), Senior Director of Brand and Marketing Matthew Tuccillo (mvtt), and Ken Block's trainer Kit Cope (kitcope).
Even Subaru Head of Motorsports Rob Weir added in a #smh.

Feeding the rumor further are the right rear tire issues many teams were having at Los Angeles. Writer and amateur rally car driver/builder Bill Caswell, who was at the Los Angeles race, wrote on Build Race Party that nearly every team there was struggling with that tire blistering on their right rear tires–but Volkswagen was not. Furthermore, he writes Volkswagen's competitors told him the team's tire temperature was about a third lower than that of other teams.

If this is a traction control system at work, how are they sneaking it past GRC?

"The cars made it through post race inspection, so either the system is really good, really complicated, or we're seeing something that works like traction control but really isn't," Caswell wrote.
A source close to the series speculated that Bluetooth is using being used to remotely trigger the traction control system before the car goes out to race, but could provide no evidence that this was happening. Alternate theories posted on Build Race Party suggest that the system was triggered by GPS (when it senses the car is on the race circuit) or that it was triggered by the car turning or launching from a standing start. This would allow the team to have the system completely off for inspection, but on for competition.

Rumors are swirling that it's possibly the same traction control system Volkswagen uses in the World Rally Championship, where they utterly dominated yet again this season. Caswell's Build Race Party article suggests that it's why Scott Speed and Tanner Foust can't do donuts after their runs, either.

However, Foust told us that the cars look this way from driveshaft flex, not from any trick WRC-level banned technology:

Yeah, I mean, every car on a launch has gear lash and twisting that goes on in the driveshaft, and I think it is in a lot of cars, including a lot of ours, and so when a driveshaft twists and it releases, you know, the tires move — they stutter back and forth. You notice that all four tires don't stutter all at the same time, which would be an engine-control thing. They all stutter at different times because that's the twist of the driveshaft and the gear lash.

But all cars do it and it started a discussion that really, I think, is less about the way that our Beetles launch and more about how we were able to really conserve tires in Los Angeles. And that, I would say, is chopped up to Andretti. I think we did a good job of setting the cars up and Scott is, I think by far, the most disciplined driver in the series, and I have learned a lot from him about saving tires, and I so I think between that and good car setup, we were able to have our Yokohamas all ten laps while other teams were literally getting four or five laps of sliding around sideways before they'd just start to blister.

If there are two drivers who know about sliding and conserving tires, it would be Speed and Foust. Scott Speed was the last American to drive in Formula One before Alexander Rossi came in this year, and open-wheelers need to be driven carefully so as not to destroy their tires (or at the very least, not become very, very annoying to drive due to flat spots and uneven tire wear).
Foust also has a long history with Formula Drift, which is all about sliding a car around and controlling it past its limit. He explained that it's not just their car that looks like this sometimes:
If you look at slow motion of cars launching, every so often, you get a stutter and that's just twisting of the driveshaft and everything. And it's something that we've seen on our cars and other cars in the series from the beginning. But understandably, when people see something like that who aren't familiar, it's something that looks kind of weird.
But when the Andretti Autosport team is the only group publicly chiming in with an explanation as to why they're not cheating, that explanation is a little hard to swallow.

Naturally, we wanted another opinion from a technical source who's familiar with these cars. It's a rumor with too many notable proponents, which involves a manufacturer recently busted for illegal technology in their road cars, complete with a video that looks extremely fishy, even to racers from other series.

"When I drove in Pirelli World Challenge for the factory Volvo team, they do standing starts and the AWD S60 didn't have any noticeable flex and they have [over] 600 hp with Pirelli slicks," said Robb Holland, professional touring car driver and Jalopnik contributor.
Then we reached out to David Mountain at Mountune. Mountain has been involved in the technical side of rallying since the Group B days and has also been building the GRC engines for Ford. Ford currently leads the GRC manufacturer's championship with 42 points over Volkswagen's 38, so if there's one group who might call technical foul on VW right now, you'd think it would be Ford.

However, he sides with Volkswagen's explanation: It's an effect caused by driveshaft twist. When we asked about the rumors surrounding this video, Mountain told us:

That's a difficult question as we also as Mountune build the Ford engines for GRC so my comments may not be seen as unbiased but my honest personal view is that VW are not using traction control and this is just some slip with the diff and also torsional wind up of the driveshafts. I am familiar with this video and also of the whole subject of others pointing the finger at VW team. I think they are just doing a very good job of the car and they have very strong drivers. Having worked before with Jost Capito the VW motorsport director I can only say he would not allow any cheating under his watch.

The GRC organisers have a data logger in the cars and given expert investigation they should be able to prove what's going on.
Why do the driveshafts flex on these cars despite the fact that they're running on a loose surface? It's how they manage the large amount of torque. "As these cars have so much torque around 900 nm [633 ft-lbs] the drive shafts are made from special steel which allow them to twist and not fail so you get a wind up like a spring and then the shaft unwinds," explained Mountain.

Is the allegedly donut-averse Volkswagen team actually cheating, then? Perhaps not, although I suspect there may be more poking around than usual in technical inspections for this weekend's races in Barbados thanks to the viral spread of this video among the GRC faithful. Besides, some teams just don't do donuts.
As much as I love a good post-race donut, even I have to admit that they are hard on a car.

Alanis King also contributed to this report.

---
Contact the author at stef.schrader@jalopnik.com.