MILFORD, Mich.—On the surface, Diane O'Nions lives in luxury. The suburban Detroit subdivision she has called home since 2005, The Oaks at Beach Lake, showcases beautifully crafted homes that sit on sprawling plots of land with sloping lawns and intricate landscaping. And bottled water. A lot of bottled water. Cases upon cases of it.
This story was originally published on May 2, 2018
For more than a decade, O'Nions herself has gone through countless cases and jugs of water, neatly stacked in her garage, wrapped in their blue labels. It's what she relies on for just about everything—drinking, cooking, brushing her teeth—and it's all because her household water supply has been contaminated by excess salt, and now, she says, arsenic.

"Pure Michigan," the slogan on the bottles reads.
The source of the excess salt and arsenic, she alleges, is her neighbor, America's No. 1 automaker, the one that has operated a famed testing facility nearby known as the Milford Proving Ground since the 1920s and has paid for bottled water deliveries to her family's home and their neighbors since 2014: General Motors.
O'Nions and her husband moved to the rural swath of Michigan more than a decade ago, attracted by the striking homes, with their angles and big garages and thousands of square footage, and prospects of a solid school district for their son. To her, it seemed like a place the couple could grow old and retire. They never had a well for drinking water before, she said, so, in August 2005, concerned about the quality, they got it tested for arsenic. All clear.
But several months later, they received a letter from the Michigan Department of Environmental Quality, notifying them of excessive levels of salt in their water. The agency recommended "that we should be drinking bottled water," O'Nions said. And so they made the switch.
"It was a bit of a shock," O'Nions told Jalopnik last month.
O'Nions is now one of several plaintiffs named in a lawsuit filed last autumn against General Motors, alleging the automaker's decades-long use of salt on roads and in vehicle tests at the 4,011-acre vehicle testing and development facility has contaminated ground and drinking water supplies for The Oaks.
The result, residents say, has been significant damage to their homes and property values, and a situation that poses a risk of serious health problems.
The contamination," according to the suit, "has caused and will cause the chemical extraction from the earth, and transport into the water used by Plaintiffs, of existing but otherwise dormant hazardous substances including, but not limited to, arsenic."

O'Nions said they now believe the increased levels of sodium has led to a level of arsenic in their water that's "above the recommended level." Long-term, lower level exposure to excessive sodium can lead to increased blood pressure, while arsenic could lead to nausea, damage to blood vessels, and create a sensation of "pins and needles" pricking your hands and feet, according to the Environmental Protection Agency. (A Michigan Department of Environmental Quality spokesperson said that, while some homeowners "may be choosing to collect" samples for arsenic, the state currently doesn't conduct such tests.)
Backed up by reams of documents and studies dating back decades, the lawsuit also claims that GM has known about the contamination since at least 1985 and repeatedly failed to notify residents about the issue until 2014, when it first acknowledged that "groundwater with elevated levels of sodium and chloride likely... migrated off the Proving Grounds."

"[GM] made its representations to [the Michigan Department of Environmental Quality] and others with actual intent to defraud, or at least with reckless disregard for the truth and as positive assertions," the suit alleges.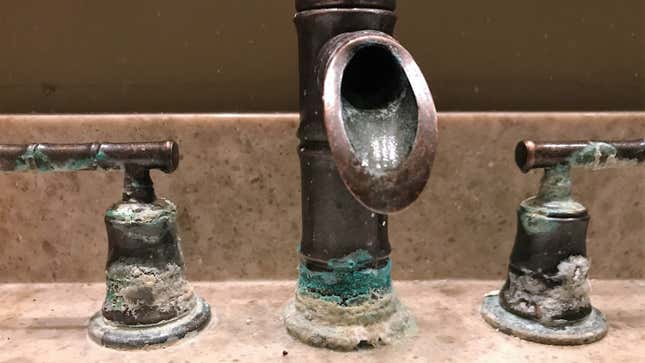 GM declined to respond to a list of questions sent by Jalopnik, citing the pending litigation, but in a statement the automaker said it "does not believe this suit has merit.
"Salt deposits naturally occur in this area, and salt is also used on the many nearby public roads during winter," the statement said. "Nonetheless, salt usage at the Milford Proving Ground has been reduced by 60 percent over the last two decades and GM submits regular reports on the groundwater quality at the Milford Proving Ground to the Michigan Department of Environmental Quality."

Nonetheless, since 2015, after notifying residents that salt-contaminated water likely migrated off the proving grounds, GM has made a bi-monthly delivery of bottled water to some homes in the neighborhood, picking up the tab from Michigan's environmental quality department. (A spokesperson for the environmental agency said GM "completely took over bottle water service in May 2015" after the Michigan Department of Environmental Quality had handled it for years.)
And at a time when GM is touting a vision of a cleaner world with zero emissions and plans to introduce 20 new all-electric models in the next five years, O'Nions and her neighbors feel particularly stung by the irony. It's in their backyard where GM will likely test some of those greener vehicles, while they continue dealing with dead vegetation and trashed household appliances from water allegedly contaminated by the automaker.
That doesn't even begin to cover the countless adjustments they've made to everyday life, like washing produce with a bottle of water, or having to lug 50-pound cases off their driveway and into their home, just to have a clean drinking water supply.
"They're trying to promote this image of being green and environmentally friendly," O'Nions said, "and yet they're not exactly portraying that image to our neighborhood."
The lawsuit also comes against the backdrop of a water crisis 40 miles to the north, in the City of Flint, where residents' have been dealing with the fallout from a man-made catastrophe that contaminated their household water supplies with lead. In response to Flint, activists and environmental groups everywhere have called for more investment in water infrastructure and assert that everyone deserves access to clean water. While the situation in Milford is not as severe—in particular, it's not affecting a disproportionately poor population, and it wasn't spurred by a haphazard government-led decision to save money that has since wrecked the trust Flint residents have in policymakers—residents of The Oaks say their situation with General Motors has been immensely taxing and burdensome for years.
The case aims to bring some financial relief to families of the subdivision. It could be some time before the case proceeds, however: GM is arguing the automaker's 2009 bankruptcy prohibits the residents from pursuing several of the claims cited in the complaint, a similar legal maneuver it pulled when addressing its recent ignition-switch scandal. A judge is expected to make a decision on what claims can be pursued in the coming weeks.
"We had hoped it was going to be our dream home and a place to raise our family," O'Nions said. "But it's just become a chain around our necks just the steps that we have to take on a daily basis."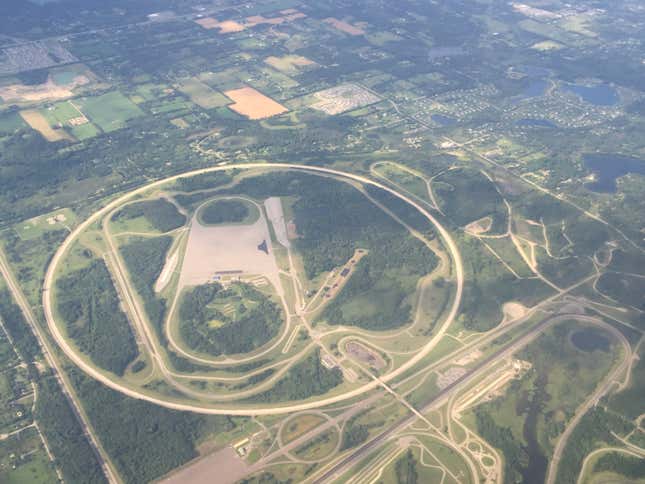 ---
Opened in 1924 and said to be the first of its kind for the then-fledgling auto industry, GM wanted Milford Proving Grounds to be a "place where all types of motor cars are tested and compared under identical driving conditions," according to a 1928 summary on the facility by the automaker.
The location was ideal. Situated equidistant from major Michigan cities like Detroit, Flint, Lansing, and Pontiac, the hilly countryside locale provided "all sorts of rough and smooth roads with all kinds of surfaces" for tests, as the pamphlet put it. A three-quarter mile concrete loop was laid, a weather observatory was built to send daily reports to every GM division, and garages were constructed to hold the hundreds of cars tested on-site.
Over time, the site expanded to encompass a network of more than 115 commercial and industrial buildings, and over 140 miles of both smooth, pristine roads and trashy dirt drags. Testing went beyond compact cars to include military vehicles and, as of today, vehicles at the site rack up more than 15 million miles recorded annually. It's also closely associated with GM's performance cars like the Chevrolet Camaro and Corvette, and industry watchers are often around to try and catch a glimpse of the latest prototype running laps around the track before anyone else can.
At the facility, GM says, salt is used to de-ice the facility's roads, test tracks and parking areas, as well as for a variety of corrosion tests on vehicles.
As the facility and the automaker grew, more salt was needed for tests, and that eventually had an impact on the water supply. By 1985, GM had grown concerned enough about the facility's groundwater that the automaker commissioned a study to analyze the supply. The increased levels of chloride in the production well supply had been a prevailing concern for 10 to 15 years by then, according to the study, which was also cited in the lawsuit.
There's a number of possible causes of chlorides in the water, the study found. Road salt for ice control on paved roads, calcium chloride for dust control on roads, wastewater effluent and pre-existing salt deposits in the area.

But the study concluded that road salt "appears to be a major source of chloride" at the facility.
"Approximately 10,000 tons of salt is used each year on the 120 miles of paved roads and parking lots," the study found. "The salt drains off the roads and becomes part of the stormwater flow. The salt is readily dissolved into the stormwater."
The stormwater flows into a nearby lake, the study says, "providing opportunities for the chloride to enter the groundwater system." The study recommended monitoring of chloride levels and "examine salt usage to determine if lesser amounts could be used."
The problem, O'Nions and her co-plaintiffs allege in the suit, is that GM failed to disclose the contamination to regulatory authorities or local residents.
"GM concealed its knowledge of the Contamination migration by knowingly and affirmatively making spurious assertions that the MPG was not the source of the Contamination and that groundwater flowed in a south to southeast direction from the MPG," the suit alleges.
Word of the water quality issues first appears to have spread outside the proving grounds in 1997, according to the complaint. That's when the developer of a new subdivision located just southwest of the proving ground discovered high chloride levels, after drilling wells for homes set to be built in the neighborhood.
Officials from the Michigan Department of Environmental Quality discussed the issue in a memo dated May 2, 1997. The memo mentions The Oaks' "big houses, big $" and how its developer discovered chloride levels in wells up to 1,000 parts per million, far exceeding the Environmental Protection Agency's limit of 250 ppm. (The developer didn't respond to a request for comment from Jalopnik.)

"Developer angry!!!" the memo says. "GM may be responsible as they have salt storage on site and use salt in splash testing for cars, etc."
Local county officials conducted tests that confirmed excessive levels of chloride, and that October, Michigan's environmental quality department told GM that, based on the results of the samples taken, "it appears that a source of sodium and chlorides may therefore emanate from the GM Proving Grounds."

The letter set off a war of sorts between GM and MDEQ that went on for years. After GM learned that state environmental officials told The Oaks' developer in an early 1998 letter that it believed the source of the issue was the proving grounds, the automaker demanded the conclusion be retracted.
At the same time, GM started producing a series of reports that were, the lawsuit alleges, "designed to refute or at least obfuscate MDEQ's hypothesis that... GM's prodigious use of salt at the MPG was the source of the Contamination."
The back-and-forth continued until the summer of 2000, when GM switched to a more aggressive strategy, as the complaint portrays it. In a letter to the MDEQ in June 2000, GM argued the conclusion of the earlier 1985 study "that road salting caused contamination at the MPG was wrong." A few months later, the automaker filed suit against MDEQ that ultimately concluded with an agreement being reached between both sides. The 2001 agreement, according to the suit, called for GM to "implement a number of best management practices with respect to the use, management, [and] storage of road salt and monitor the effects of such measures."
By then, residents at The Oaks were moving in, and as they put it, they were left in the dark about the water quality issues.
---
Ellen Moore, a retired elementary school teacher, said her family had moved around the world several times before settling on the quaint neighborhood in Milford in 2004.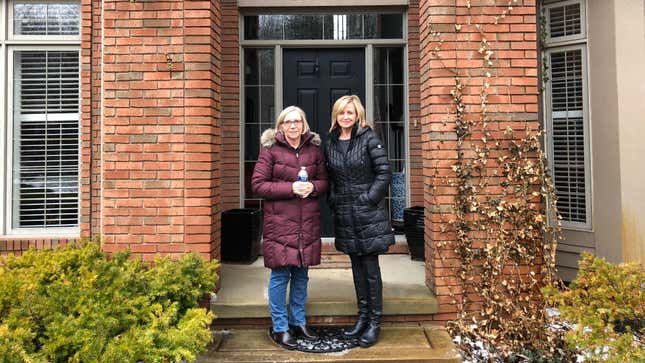 "I had always admired it," Moore told Jalopnik this month in the living room of her 3,000-square-foot home. "I wasn't sure if we can afford it, but we usually figured that we'd only live anywhere three or four years and we were moved again."
But they've been there ever since. At first glance, the Moore household is spacious and inviting. On a recent Saturday, a medley of big band songs ticked off in the background of her living room, as Moore explained the issues that've emanated from the water contamination.
The property damage is one thing, she says. Household appliances, shower heads and drains, water pipes—it's an immense, costly hassle, and there are pictures to illustrate the damage. Out back, what appears at first glance to be a lovely yard is pocketed by dead vegetation, something Moore says can't be salvaged.
"It's not just what we ingest," she said. "It's the damage of the corrosiveness of the sodium chloride and all of our plumbing and our pipes, and our landscaping."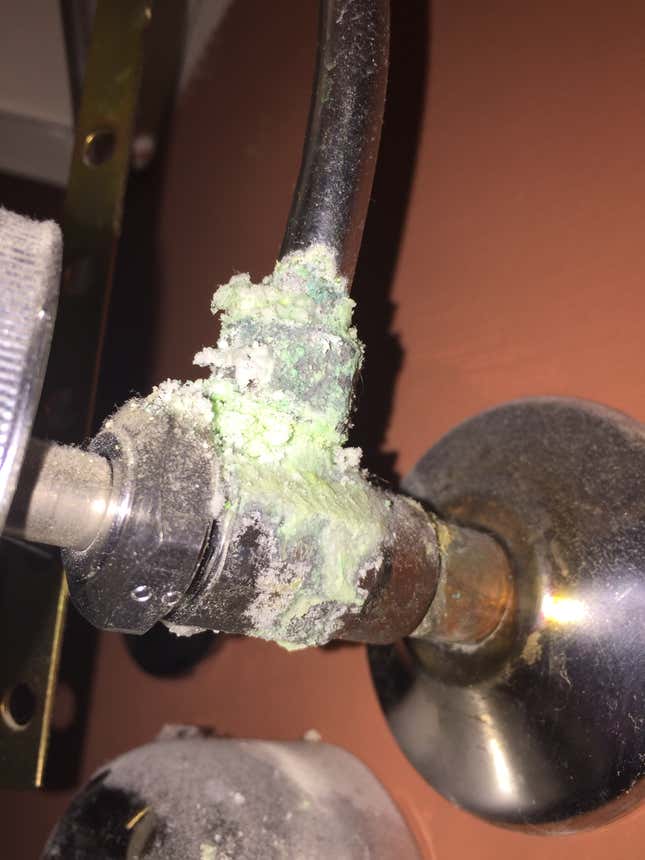 The daily inconveniences are jarring, she said. Moore recalled watching the local news after a recent ice storm knocked out power for thousands of people across Metro Detroit for several days. Residents were—justifiably—complaining about having to make numerous treks to the store for water. That's been standard operating procedure for years in The Oaks, she said.

"People don't have any idea, she said. "It's such an inconvenience for those for 10 days, and this has been going on for years."

Out of the blue, in 2014, residents of The Oaks received a letter from General Motors about the water supply. Called a "Notice of Migration," the letter stated that MDEQ asked GM to install three monitoring wells near the southwest boundary of the proving grounds, which is the area adjacent and closest to the subdivision.
Sampling from the wells showed groundwater with elevated levels of sodium and chloride "likely have migrated off the Proving Grounds," according to the lawsuit, far exceeding federal limits set for each.
The results indicated, the suit continued, "groundwater flow in the southwest corner of the Proving Grounds is to the south and southwest," meaning in the direction of the Oaks subdivision.
"The first time that any of our clients knew, or had any reason to know that this was coming from General Motors—and was not a natural phenomenon and was not coming from across just salt from the street, or salt in the ground—was in 2014, when General Motors sent out a notice to everybody through the MDEQ that this was a runoff issue," the plaintiffs' co-counsel, Alex Memmen, told Jalopnik.
It was a revelation for the residents. O'Nions said they were in disbelief.
"Outrage, absolute outrage," she said, "because we felt we've been deceived, obviously."
GM offered residents two options. They could either install a reverse osmosis system at one location in the house, or receive as much bottled water as they'd like. Some residents took up the reverse osmosis option, but Moore and O'Nions said the company balked at installing them for every location in their homes. Plus, they said, the maintenance costs for a reverse osmosis system are expensive; it'd be far easier to have clean water running out of their tap.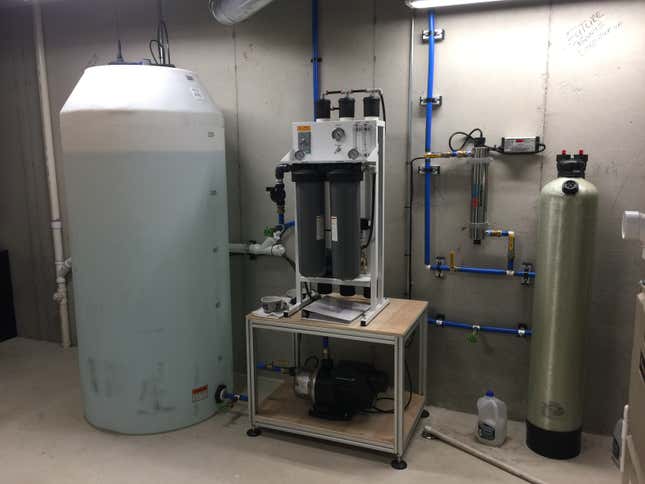 Moore said residents started banding together and hired a law firm to look into filing a lawsuit. At first, she honestly expected GM would hold itself accountable and take action.
"I honestly said to everybody in our family that—and I have said this for a long time—when we get to the right people, and we have all of our information, they're going to do the right thing," she said. "Because right is right and wrong is wrong. And they caused this. All this time I have thought they were going to do the right thing."
Battling GM is bound to be a slog, though. The company hauled the case before the judge that oversaw its bankruptcy and restructuring in 2009—which created two entities generally referred to as "old GM," which exists to handle claims filed against the automaker during its bankruptcy, and "new GM," the business representing the automaker today.
As a result of the bankruptcy, GM's aiming to stymie the water contamination case before it gets any further, similar to what it attempted during the ignition switch scandal.
In court, GM argues the Oaks residents cannot pursue the majority of their allegations, claiming the bankruptcy prohibits them from "asserting claims against [New GM] that it did not assume."
Attorney Memmen, expectedly, doesn't believe the bankruptcy argument's valid. The plaintiffs are arguing the case deserves to be heard in state court, and say their claims are indeed permissible. Whether both sides are discussing a settlement isn't clear—Memmen declined to comment on whether negotiations are ongoing—but the attorney said he doesn't expect GM's legal tactics to slow things down.
"We're hoping to get a ruling in the next month or two," he said on GM's effort to stop the case because of its bankruptcy.
The next step would to be asking the court to certify their complaint as a class-action suit to include more affected parties in the case. (The residents claim the contamination is starting to spread and impact homes beyond their subdivision). Memmen wouldn't comment on how many residents are possibly interested in joining the suit, but said "there is a large number of people who are similarly situated." The lawsuit asks for a settlement in excess of $25,000 for each plaintiff, and request that GM be held liable for cleanup and remediation costs.
O'Nions said the emotional toll from the situation is an enormous burden to shoulder.
"It's so hard because, you know, you work hard, you strive to live a decent life," she said.
"And then suddenly everything is turned upside down. When people come to your home and they're saying, 'Oh, you live in such a nice neighborhood. Oh, this must be your dream home. And you tell them, 'Well, no, it isn't.' It's a living nightmare."
Correction (May 3, 9:50 a.m.): A previous photo caption in this story incorrectly stated that GM paid for a reverse osmosis system at one of the homes in The Oaks subdivision. The cost was covered entirely by the resident. We regret the error.