Good Morning! Welcome to The Morning Shift, your roundup of the auto news you crave, all in one place every weekday morning. Here are the important stories you need to know.
1st Gear: Bring It On
While other automakers may be green with envy over the hype and 276,000-strong preorder blitz behind the Tesla Model 3, Carlos Ghosn of Nissan Renault sees things differently.
According to Automotive News, Ghosn said he's excited about such demand for an electric car and hopes for "good competition":
Ghosn, who is positioning electric cars as a pillar of Nissan's corporate strategy, said the explosive enthusiasm for Tesla's new entry vehicle would spur demand for all electric cars.
"The fact that so many people are willing to pay a down payment to get this car which becomes available at the end of 2017 is a good sign," Ghosn said today during a visit to an engine plant here. "Finally, good competition for EVs is picking up."

[...] He said new offerings from rivals such as Tesla will spur customer appreciation for electric vehicles and push Nissan to develop better cars of its own. Indeed, the Japanese carmaker is working to boost the range of its next-generation Leaf, cut EV costs and expand the recharging infrastructure.
G/O Media may get a commission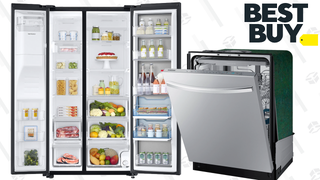 Up to 50% off
Best Buy - Samsung Major Appliance Sale
That's a great, confident attitude to take. Nissan Renault is the world leader in EV sales and has a huge slew of future EVs in the pipeline.
2nd Gear: Is The Chevy Bolt The Anti-Tesla?
In particular, General Motors seems awfully incensed that it hasn't had the hype that Tesla has, or even the success that the Prius had in the hybrid game. GM aims to change that with the upcoming Chevrolet Bolt, and out of the gate the automaker has several advantages, reports Automotive News:
"We've got 3,100 dealers that we're going to be able to turn on right away to sell the Bolt EV," he said.

That would put the Bolt's rollout up to 15 months ahead of that of the Model 3, which has racked up 276,000 preorders and running. But it could end up being much further ahead than that if the Model 3's launch slips well past Tesla CEO Elon Musk's year-end 2017 forecast, which many educated observers believe is almost a certainty.
But!
But ultimately, Tesla's advantage might matter more than timing. It's the cool factor. There is no other way to explain the people plunking down $1,000 refundable deposits even before the Model 3 debuted last week to a fire hose of gushing media coverage.

Auto writer Aaron Gold put it in these biting terms: "Comparing Tesla and Chevy is like comparing Apple and Microsoft. Brand matters." That's essentially what Musk meant when he said on Thursday that he doesn't consider the Bolt a direct competitor to the Model 3.
It's not any kind of stretch to say that in 2016, Tesla is a sexier and more hyped up brand than Chevrolet—perhaps unfairly so. But how far will sexy get Tesla, and who can really deliver the better EV?
3rd Gear: Meanwhile At Tesla
Meanwhile at Tesla, the automaker announced yesterday it delivered 14,820 vehicles in Q1, 2,400 of which were the Model X SUV. That's a 50 percent year-over-year increase.
But it was also about 2,000 less than what Tesla expected to deliver, and it blamed parts shortages for that, reports Reuters:
Tesla said "severe shortages" of parts for the Model X in January and February cut into planned production. By late March, Model X production had ramped back up to 750 a week.

Unusually, Tesla blamed the parts shortages on its own "hubris" - specifically, in adding "far too much new technology" to the Model X, including a unique set of "falcon wing" rear doors that turned out to be far more difficult to engineer than the company anticipated.

Tesla also cited "insufficient validation" of its supplier capability, as well as its own inability to manufacture some of the parts in-house.
Tesla said it won't repeat these mistakes when the Model 3 goes on sale sometime between 18 months and 10 years from now.
4th Gear: The Ford Fusion Makes Traffic A Lot Less Painful
Autonomous driving technology is evolving into the ultimate form of cruise control. So what if you're stuck in traffic? The updated Ford Fusion has an answer to that. It's the first Ford vehicle with adaptive cruise control with stop-and-go technology. Here's how that works, via Tech Times:
The way it works is that, once you find yourself in painful gridlock, you would activate the stop-and-go feature, which would automatically accelerate and brake on your behalf, all while keeping a safe distance from the vehicle directly ahead.

In slow traffic, Ford enables minimal driver input for the system to automatically brake itself to a stop, before resuming travel and safe following distance. The system is detailed to the point, in which drivers can even preset that speed while being stuck in traffic to make the experience even less stressful.
As skeptical and wary as I am of driving that gets removed from human hands, that's kind of an awesome feature, and amazing it's coming to a vehicle as accessible as the Fusion.
5th Gear: Toyota Connected
Toyota and Microsoft are teaming up to make your car smarter. Toyota Connected is a new technology coming next year or so that seeks to "humanize the driving experience" by making the AI tech offer more services to the driver while working more in the background. Via The Detroit Free Press:
For instance, artificial-intelligence features could be added to cars that allow them to know where the car is going and offer services drivers might want along the way. Going to the baseball game this weekend? The car might detect the route a driver normally takes and recommend restaurants for a pre-game lunch.

Toyota Connected, as the partnership will be known, "will help free our customers from the tyranny of technology. It will make lives easier and help us to return to our humanity," said Zack Hicks, the chief information officer of Toyota Motor North America who was appointed CEO of Toyota Connected.

Already, drivers ask the infotainment system in their cars for restaurant recommendations, but many locations often would require that a driver turn around. But with Toyota Connected, the system might be modified to only recommend restaurants on the highway ahead — and then only the kinds of food that the driver usually prefers.
More on this from our friends at Gizmodo.
Reverse: RIP Lee Petty
Neutral: Does The Bolt Stand A Chance Against The Model 3?
Chevy may not have the "it" factor, but if the Bolt is in fact good and they can get it out much sooner, they could have a huge edge. Or is the hype too big to beat?