Welcome to Must Read, where we single out the best stories from around the automotive universe and beyond. Today we have reports from Curbside Classic, Sporting News and Texas Monthly.
The Mustang was supposedly named after a football team, but it's a myth. That's just flat out wrong. So why is it still around?
It's been proven that iffy memories become to feel iron-clad solid if repeated often enough. Such is the case with the version perpetuated to this day (in a Mustangs press release) by former SMU Mustang's (and later Iowa) football coach Hayden Fry, wherein Lee Iacocca and a troop of his "engineers" barged into the Mustangs' locker room after being defeated by Michigan 27-16 on September 28, 1963, and announced "Today," Iacocca said, "After watching the SMU Mustangs play with such flair, we reached a decision. We will call our new car the Mustang. Because it will be light, like your team; It will be quick, like your team; And it will be sporty, like your team."
G/O Media may get a commission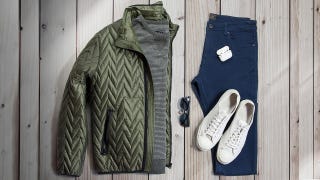 60% off
Jachs NY Fall Sale 60% Off
If you're in motorsports and a relative owns a team, there are two things to know: You're nearly guaranteed a ride and you'll be ridiculed by competitors.
If Austin and Ty Dillon worried about pressure or whether people thought they deserved their rides at Richard Childress Racing, they probably wouldn't drive cars with a slanted 3 logo made famous by Dale Earnhardt.
Texas' roads are faltering, they have money, but they aren't using it. Why?
The awkwardly named Economic Stabilization Fund, more commonly called the Rainy Day Fund, is our piggy bank, and we owe its existence to our mineral wealth. It was created in the late eighties, as rising oil prices were pulling Texas out of a prolonged economic downturn. The idea was simple: a state fortunate enough to be visited every so often by an oil boom ought to be able to set aside a little something during the good times to help out during the bad. It's a way of spreading out our booms. The money in the fund comes primarily from oil and gas taxes, according to a precise formula: 75 cents of every dollar the state collects above what it collected in 1987 (not a boom year) gets socked away. This means that at present, thanks to the shale boom's extremely high levels of production, our piggy bank is stuffed. With the Eagle Ford Shale, in South Texas, cranking out record numbers and the sleeping giant of the Permian Basin beginning to rise again, the Rainy Day Fund is expected to have around $12 billion in it by the time the next legislative session rolls around.