I've long maintained that drifters are the new hot rodders, but it was still surprising to me when I heard Chris Forsberg's Nissan 370Z Formula Drift pro car with an 800-plus horsepower VQ V6. This car idles like a big block gasser.
This is a very worked over engine. Notably it's twin turbo and stroked up to 4.0 liters, with a closed-deck block and high-compression pistons, as he pointed out in a pre-season update. Another pre-season dyno test showed the car making a good 812 horsepower, 676 lb-ft of torque, enough to make this already an event-winning car this season, and one of the most consistently fast runners in the field.
This is a very different setup to the bonkers twin-anti-lag setup Chris ran last year with Nameless Performance. That setup sounded completely unreal and was supposed to be able to make 1200 horsepower, but this year's car looks significantly, significantly more drivable.

G/O Media may get a commission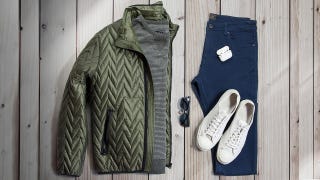 60% off
Jachs NY Fall Sale 60% Off
But what interests me more are the cams in this thing. The cams! They're what give the car that fantastic chop-chop-chop at idle. It's the product of overlap, when both the exhaust valves and intake valves are open at the same time. Holding valves open longer is all part of the quest to get more air and fuel into the engine. More air, more fuel, more power.
And so that sound has come to be a connotation of power, particularly on old V8s from hot rods, muscle cars and drag racers.
It's a look, and a sound, you don't associate with a bright blue and orange Nissan, so I had to get a little clip of the car pop-pop-popping at Club Loose's ProBroDown the other weekend at Englishtown to get the full sensation.
I popped over to friend of Jalopnik and one of Forsberg's crew members Jimmy Caldwell to ask what cams were in there, exactly.
"Big cams."
I paused. "Ok, yeah," I said, "let me write that down."
"Big.................cams."
"Yeah," Jimmy clarified. "Big cams."
He also said he knew they from Jim Wolf, which sells aftermarket cams for Nissan engines, but he didn't know the lift and duration of them, exactly, which account for that good idle.
"Do you know?" I asked. Jimmy shook his head.
"Does Scott [Davidson, Forsberg's spotter] know?" Jimmy shook his head.
"If Scott knew," I asked again, "would he tell me?" Once more, a shake of the head.
I did ask Scott Davidson, an old circle track racer himself and veteran of NASCAR, if he knew what cams, exactly were in there, but he said he didn't know either.
This isn't exactly surprising, as lots of these little specs hot rodders like to keep to themselves. I don't mind it really. It's nice to see that under the very new, very tuner look of drifting, everything runs on very old school racing tricks and knowledge.