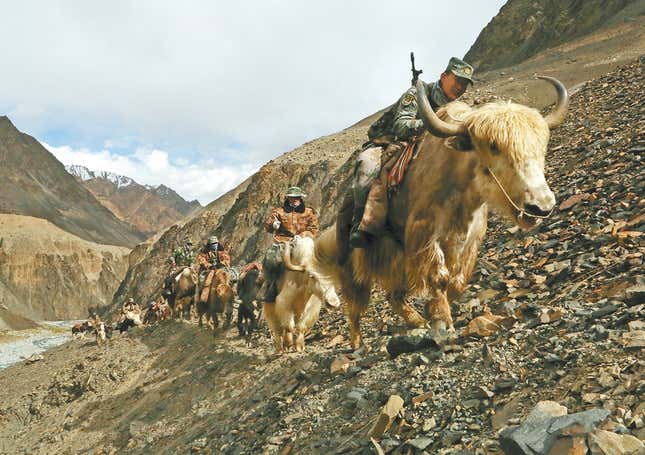 The People's Liberation Army—the official name of the Chinese Army—still rides yaks to patrol some of the country's most difficult borders. The use of yaks, basically hairy cows adapted to mountain life, allows the PLA to go places tanks and armored vehicles can't. Here's why a surprising number of military forces, including the German Army and the U.S. Marine Corps regularly make use of, or at least train to use beasts of burden in modern war.
Chase Elliott Explains the Challenge of Adapting to NASCAR's Next Gen Car
China Defense Blog has a number of what it says are the PLA's only yak unit. The photos show Chinese soldiers, wearing digital camouflage and shouldering QBZ-95 assault rifles, crossing streams, mountainsides, and gorgeous, snow-capped hills.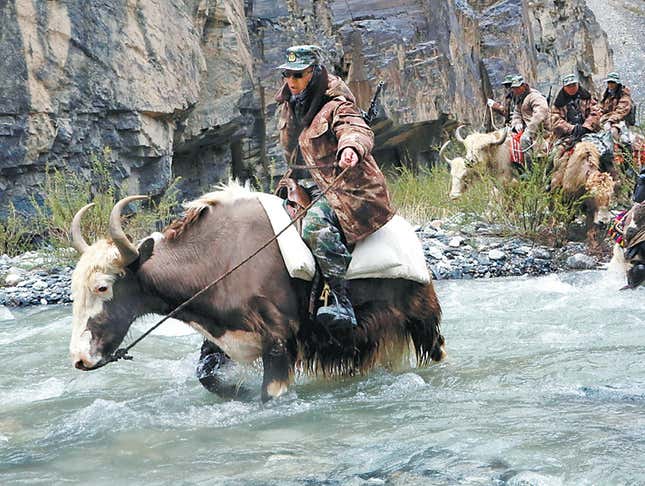 The soldiers are based in Xinjiang, China's westernmost province (and a place where China is reportedly interning up to three million Muslim citizens.) More than twice the size of Texas, Xinjiang's long borders are extremely mountainous and include the Karakoram, Kunlun, and Tien Shan mountains, making China a neighbor of Mongolia, Kazakhstan, Kyrgyzstan, Tajikistan, Afghanistan, and Pakistan. Although a rough neighborhood much of the border areas is largely impassable to cars, trucks, and armored vehicles.

Not to yaks, however. A beast of burden genetically related to cattle, yaks are native to the region and adapted thousands of years ago to the mountains and cold. Here are some more photos from 2015.

All of the photos of yak-mounted Chinese soldiers appear to be publicity shots for the People's Liberation Army. The soldiers are lightly armed, with only assault rifles. They also seem to lack terrestrial radios, whose range would be severely impaired in high mountain ranges.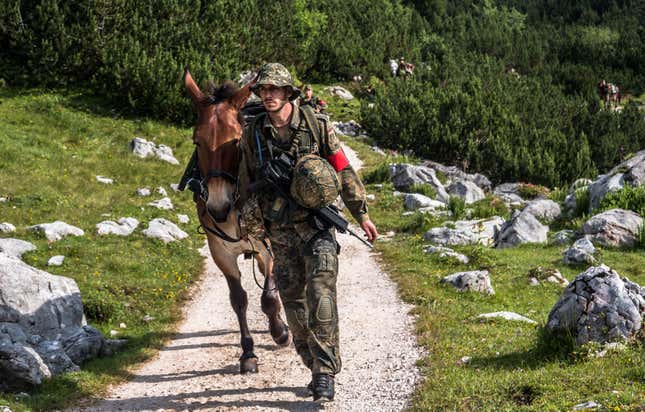 The PLA is not the only modern army to use domesticated livestock. Half a world away, the German Army's 23 Mountain Brigade, based in Bad Reichenhall, still uses mules to transport equipment and supplies across the Bavarian Alps.
Elements of the brigade deployed to both Kosovo and Afghanistan, both mountainous countries where their expertise was useful.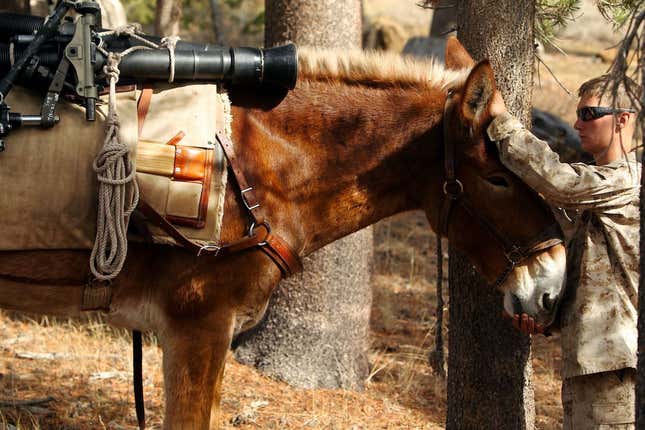 Despite the U.S. Military's high tech focus it too trains personnel to operate with pack animals. The elite U.S. Special Forces, also known as the Green Berets, put their troops through a four week long Special Operations Animal Packing Course. Further west, the Marine Corps Mountain Arctic Warfare Training Center, deep in the Eastern Sierra Nevada mountains of California, offers a two week long Animal Packers Course, complete with mountains and mules.
The PLA isn't the first army to use yaks in Central Asia. Some things just work.