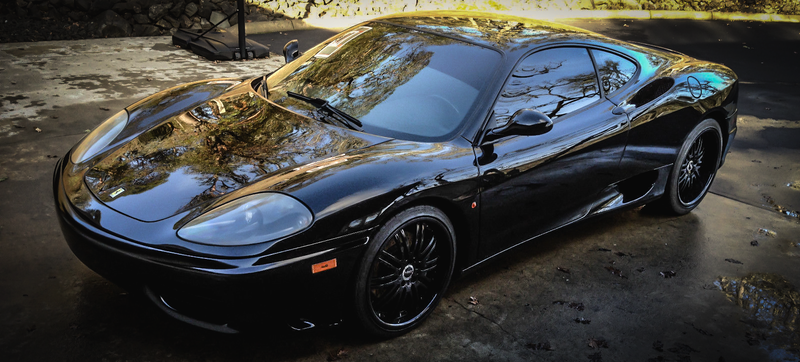 Exotic cars do one thing better than any other cars - they excite the part of your brain that responds to style and exclusivity. Owning one means that you've arrived, in the sense that you now have what could only be a dream for others - something like this clean Ferrari 360 Modena, now up for sale for half the price of a base model BMW M6.
This 1999 Ferrari 360 Modena has an unfortunate knack for being the me-too car for successful internet marketers, mid-life crisis day traders and Peter North impersonators. However, the car's pretty damn good. It's not the fastest car on the track, but it's damned reliable when you consider its high-strung and maintenance-heavy predecessors, it makes a great noise and this one has a gated six-speed manual gearbox which is the only choice when you're considering an exotic sports car from the late '90s. This car, despite having somewhat gaudy black wheels and a paint color not becoming of a Ferrari, is an ultimately clean example of what you can have on the market that's quite affordable and relatively simple and easy to live with day to day. At the $60,000 asking price with room for negotiation, it may be the best modern Ferrari bargain you'll find for a long while.

This car, by Ferrari's standards, is setting mileage records because the 70,000 on the odometer means that it would likely never be a collector's item, but here's the thing - these were the mass market starter Ferraris, they were never meant to be collected and hoarded in car-sized Ziploc bags. These cars were meant to be driven and/or totaled in epic form. Thankfully, the car was taken care of quite well, even though this one may need some reconditioning in the future:
I have owned this car for over 2 years and never spared any expense when it comes to having it serviced and maintained. It has had regular trips to the Ferrari Dealership for checkups, fluid changes, and general inspections. Runs and drives excellent and is ready for a new owner. I will say that on my last visit to the Dealership, I was informed it may need a clutch soon. I still drive it with no problems, although the clutch is starting to feel a bit weaker. On that note I've decided to part ways with it as I have come into a bit of financial strain. A new clutch is like $1300 in parts + labor (which you can get done at a great price if you know what you're doing, and that's what I'd be doing if I hadn't hit a rough patch financially.)
Is it a smart buy? Potentially. With the clutch going out, I'd make sure that it receives an inspection worthy of a car of its original MSRP. It is a hand-built Italian supercar, and I'd wager than it would need a few more things other than the clutch to make into a reliable daily cruiser. Having said that, there are quite a few things you can do to the car yourself and it's a great starting point to fuel the exotic flame that takes a lot of time and money to be extinguished. Check it out before someone donks it.
---
Tavarish is the founder of APiDA Online and writes and makes videos about buying and selling cool cars on the internet. He owns the world's cheapest Mercedes S-Class, a graffiti-bombed Lexus, and he's the only Jalopnik author that has never driven a Miata. He also has a real name that he didn't feel was journalist-y enough so he used a pen name and this was the best he could do.
You can also follow him on Twitter and Facebook. He won't mind.