What has been developed for the electric i sub-brand is now on the edge of becoming an option for regular BMWs too. EU bureaucracy is the biggest obstacle standing between you and carbon fiber wheels, but not for long. BMW needs to make some of its investment back.
Developing the i3 and the i8 has been an expensive adventure, and BMW is looking for ways of getting the most out of the gained knowledge and production technologies.
So far, they've come up with a full carbon fibre steering wheel made of a carbon skeleton and a carbon frame, a one-piece carbon fibre propeller shaft for the BMW X5 just like you get on the SLS AMG Black Series and a new carbon-plastic compound that is light and strong, made of i3 and i8 production waste. They call it secondary CFRP and it can be used for semi-structural parts instead of aluminum, magnesium or steel in any BMW product from Rolls-Royces to Minis.
Next to the full carbon fiber wheel, BMW also has an alloy/carbon hybrid featuring alloy spokes and a carbon fiber rim. Now, they only have to convince the European legislators that these materials are safe enough for the streets.
G/O Media may get a commission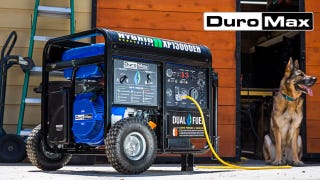 Black Friday Sale
DuroMax Generator Sale
According to Autoexpress, BMW's lightweight construction manager Franz Storkenmaier had this to say about their achievements:
We save 25 percent in weight compared to a forged alloy wheel with the hybrid wheel and another 10 percent if it's completely carbon. It's the most important kind of weight because it's unsprung mass and there are also rotating mass advantages.
For those concerned about the carbon fiber wheel's lack of flexibility or behavior after a hit at any speed, he added:
The carbon fibre wheels are very damage resistant. They're actually more damage resistant to kerb hits than standard alloy wheels because the damage polishes out really easily.

You can scratch it when you park and it's better to polish out than aluminum. You can have the metal finish to it with the alloy hybrid, but it's technically a better solution to go all the way and have a full carbon fibre wheel.
Carbon fiber steering wheels using a CFRP core instead of a metal skeleton are also just as safe as regular ones according to BMW:
The protection for the carbon steering wheel is the airbag. If you physically hit the steering wheel, it will not deform and you've already lost. That's the same with metallic steering wheels.
Still, the most exciting news is how the car industry can benefit from using secondary carbon fiber:
We have tried to use the leftover raw carbon fibre from i3 and i8 production to make carbon fibre parts, mixed with plastic. We chop up the leftover fibers and mix them all together, so it doesn't matter where they come from or what their original job was supposed to be. After we cut them up, we mix them with plastic and this mix can be used in a regular plastic-moulding machines, but it comes out stronger and lighter than any thermoplastic.

We are the very first car maker to use carbon fibre on an industrial scale. Now are we able to use the leftover from the mainstream production on an industrial scale, too.

We have developed an instrument carrier (dashboard) out of this material and it could replace the magnesium one at a weight saving of about 20 percent. It's even higher for seat frames because they're typically made from heavier metals than magnesium."

Carbon fibre is an expensive material to work with, but if you are using production waste then it's a different cost structure from working up raw carbon fibre. It's cheap, and that's how we can position it as a competitor to magnesium.
Once the EU realizes how great all of this is for polar bears and politicians driving fast BMWs, we'll see mass-produced carbon fiber hit the streets in no time.
Hat tip to Ilya!