Spring signifies things like birth, growth, love, and all of that inspirational BS. But it also means warm weather. And warm weather is road trip weather. What better way to celebrate than to take an SRT Viper GTS and Jeep Grand Cherokee SRT for a 1,600 mile jaunt to get our friends from Gizmodo's brand spankin' new TV show to SxSW? And, more importantly, which car is the better roadtripper?
Our 1,110 horsepower road trip started with an escape. The annoyingly named Snowquester was bearing down on DC, and we had to get the hell out of there as fast as we could. That meant sending the Viper to Charlotte and trekking down in the SRT Grand Cherokee.
And damn does that thing eat up the miles. The SRT is one of the most comfortable tourers I've ever had the chance to drive. It also has so much power on demand that it's ridiculous. The eight speed gearbox of the 2014 car grabs about four gears at once when you want to accelerate. It's kind of crazy.
One thing that it doesn't equate to is fuel economy. The Jeep got an average of 17 MPG. Average. That's not many MPGs. I'm not really complaining about it, since I love a good, old fashioned gas guzzler. I was just amazed at how few miles it could get, and this is a car that has cylinder deactivation.
G/O Media may get a commission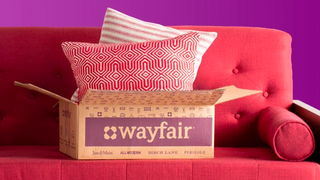 Big deals
Wayfair Surplus Sale
But that doesn't ruin the experience. At speed, the GC is comfortable, like falling out of a window into a really sizable pile of soft refried beans. It was actually so comfortable that everyone was able to work on laptops in the car without getting car sick. It had a bunch of outlets to power devices and it was even a mobile hot spot. It's the fastest office I've ever driven.
That stands in direct contrast to the Viper.
I was the first to climb in the Viper so I could make a beeline to Peachtree City, GA and meet up with the rest of the crew. It was dusk and rush hour in Charlotte. I remember exactly what I said when I got in the car to set out.
"This was a terrible choice."
Going from the vast expanse of the Jeep to the Viper takes a lot of getting used to. The doorsills are wide and high. They aren't Lotus-bad, but you have to climb up and over in order to get in the car. Headroom is minimal. The mirrors are tiny. The hood is huge. The clutch has a way longer pedal than you'd expect. The notchy gearbox feels unnatural at first. And my first experience is in rush hour traffic. I thought it was going to end in tears.
Not necessarily a crash, just me sobbing by the side of the highway. I wanted to be back in the Jeep and was kicking myself for volunteering to take the Viper.
The first problem I have makes me look like a jackass. The fuel gauge is located to the right of the tach. The light to tell you the high beams are on is also located there. With a full tank of fuel, the needle blocks out that indicator.
So, if you were blinded by a Viper in Charlotte a week or two ago, I'm really sorry. I still feel like an asshole.
So it has its teething problems. But once you step on the gas for that first time, things change. Power delivery is savage on a level I've never really experienced before. The Viper transforms from a coffin to a rocket-powered cocoon. A tight, loud, and warm cocoon, but a cocoon nevertheless. You feel at one with it. It was also surprisingly comfortable. That's not to say it was Grand Cherokee levels of comfortable, but it made a surprisingly good tourer and even held all my luggage. It also averaged 18.5 MPG, which is good bit better than the Jeep.
We had one person on the trip who didn't know how to drive stick, and guess what? She learned to drive stick in a Viper. That's something that not many people get to say. It's also a tip of the hat to SRT for making the car more accessible than it once was.
My legs didn't hurt after long drives. Neither did my back. The immensely loud 640 horsepower monster under the hood did give me a pretty decent headache and made me wish for an extra gear.
But if you have to choose one to take a trip in, which is it? When we set out on this journey, we all had the same thought: We'll all want to drive the Viper at the beginning of the trip and then fight to not drive it for the rest of the time.
It ended up being the opposite.
I can't speak for everyone on the trip (well, maybe I can) but I felt a kinship with the Viper that I didn't feel with the Jeep. The Cherokee is a great truck, but it didn't grab at my heart strings. After I initially regretted my choice of the Viper, it was hard to get me out of it. That's why I drove it on the drag strip all day. That's why I rode in it even when I didn't have to. And that's why I took it for a two hour drive just hours before my flight out of Austin.
I went into this trip as someone who didn't get what the Viper was about. I didn't see the allure or the appeal. Well, I get it now. I really get it. The Viper is the car equivalent of PCP.
I'm addicted and I want it back in my life. Now.