Racers will be on their own when it comes to locating whores and/or poker at the Goin' For Broken 24 Hours Of LeMons, but thrown rods will be provided early and often.
Tech inspections start on Friday at Reno-Fernley Raceway, and racing begins at 11:00 AM Saturday. I'll be there, LeMons Supreme Court Justice Lieberman will be there, some guy from Autoblog will be there, and many of you will be there as well. Let's get a sneak preview of some of the "race cars" we'll have the pleasure of watching shed major engine components on roar around the track:


We're pretty excited about the first-ever Ford/Mercury/whatever Capri to show up to a LeMons event. Our friend Bill, of wrecked MGB-GT fame, is on the team, and their Cologne V6-powered '74 Capri is one of the most unspeakably terrible finest race cars we've ever seen. Not only that, but the team will be racing to raise funds to help a little girl who's battling leukemia. You can sign up to donate a certain amount per lap; we suggest $20 per, because, well, it's a 500-buck Crapi and is nearly certain to might blow up on the track pretty quickly. I don't want to spoil anything here, but word at LeMons HQ is that these dudes are raising the LeMons theme bar with their team costumes.




G/O Media may get a commission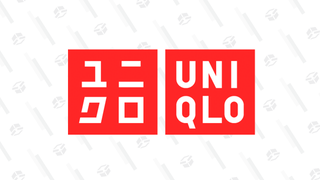 Year-round basics
Uniqlo Summer Sale
You know what's wrong with the 24 Hours Of LeMons? No Fauxrraris, that's what! Happily, Team Lemons Vice has butchered the living crap out of tastefully modified their Altamont- and Thunderhill-veteran CRX, and it looks so vile we have no words strong enough great! Here's what the team has to say about their car:

Here's some photos of the current build and the previous themes for the car. It started out as a stock 88' CRX DX with 450K+ showing on the odometer when we bought it. Clean body but had some previous front end damage and cut springs. It had a really bad front end shake which turned out to be lump where one of the front tires was beginning to separate (all were showing steel). The big homemade wing and exhaust tip provided the irony for the little "Team Size Matters" CRX. The before and after shots are from our first race at AMP in Oct 07. The wing actually produced enough down force to bend and then break the supports at the first Thunderhill race. Other than bent fenders and getting the steeing knocked way out of alignment, the only mechanical problem we've had was a 4" gash in the gas tank at AMP last May. Fortunately we'd wired up the exhaust tip that had been dragging the day before.
After three races we rebuilt it as the Slow Santas sleigh. That was our first time using the styrofoam insulation sheets, which we used all over for the current build. The sleigh was high enough to avoid contact, but we'll have to be especially careful this time.
The car is several inches shorter on the left than on the right now, so it was tricky to frame up the "italian" rear end. The body already looks straighter (which isn't saying much) and should look a lot better after this weekend. We're hoping all the foam might provide some impact cushioning should another car experience braking or steering "problems". That seems to happen a lot. The painting (with rollers) will get finished this weekend, and we will have graphics for the "gills" on the sides and the tailights across the back. We just might consider offering a body kit based on this design. A rat took up residence in the engine compartment after the last race, hence the peanuts, snails and turds on the valve cover. Other than that, the motor is totally stock.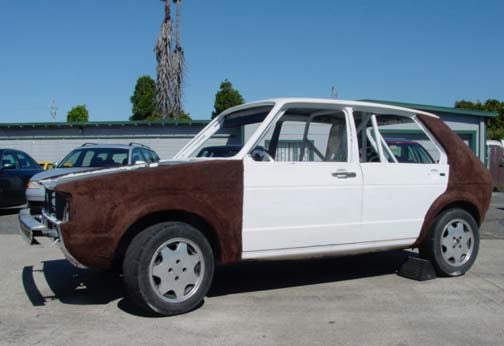 How about a really puzzling internet meme as a LeMons car theme? Casadelshawn, formerly of the Faster Farms Chickens (whose Belvedere will be serving as the Goin' For Broken Official Pace Car), and his water-cooled-VW-fanatic henchmen will be racing a 4-door Rabbit known as the Bunny With A Pancake On Its Head.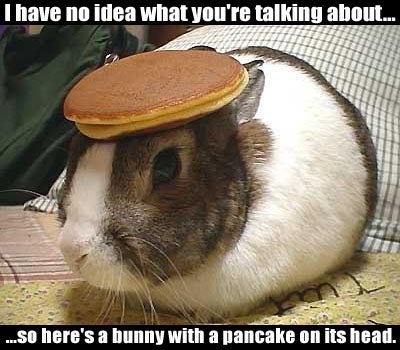 That's right, they're turning a brutally swiss-cheesed VW Rabbit into a rolling replica of Oolong the Rabbit, complete with fur, ears, and huge foam-rubber pancake on its head. The car isn't quite, you know, done yet, but Casadelshawn assures me that they only have about "nine rats left to kill" on the project, whatever the hell that means.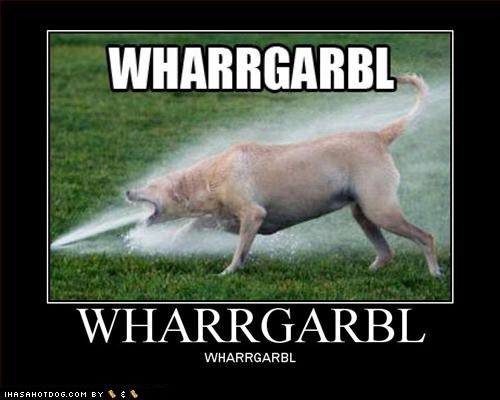 The car drove under its own power for the first time a couple days ago, and supposedly it made the team members feel like this.





Then we've got the Mustard Yellow Volvo Doing 45 In The Fast Lane, formerly known as the Black Metal V8olvo. I'm not on the team any more, because I tend to make bonehead mistakes on the race track am too busy judging and doing the journalism thing, but I have been retained as the team's Artistic Consultant (and I'm sure they'll come pull out all my toenails with pliers if my innovative wiring job from last year goes up in smoke). Naturally, they'll need to bribe the bejasus out of me in order to avoid the 1,000-lap penalty with which I should hammer them just on general principle, but I'll probably let them slide due to their allowing me to inflict my really annoying theme on them. Yes, any East Bay resident can tell you all about the scourge of the Berkeley Volvo 244, painted that distinctive mustard color (which we've approximated with Caterpillar Yellow train-car paint), covered with dishwater-strength lefty bumper stickers and pootling along in the fast lane with the left blinker on… and that's what will be clogging up the track at Reno-Fernley!


I've put a lot of thought into the bumper stickers, with the vintage Mondale-Ferraro one being the real prize. Can't have anything too hippie, because hippies get high and groove on good tunes and that's too much fun for Berkeley Volvo 244 drivers… and anything too revolutionary is right out, too, because it's all about the tedium, you see. Walter Mondale, however, is about right, and did you ever see one of these cars that didn't have a FREE TIBET sticker?

As for the Eternal Left Blinker, all it took was a couple of yellow bulbs, a Chrysler turn-signal flasher, and a quick repurposing of the wiring that once operated the Yammering Swedish Skulls Of Black Metal Doom: