Born in the '70s, the 935 was the factory racing version of the 911. Today's Nice Price or Crack Pipe 911 shares the 935's slant nose and flared fenders, but unlike its progenitor, you can race this one alfresco.
We Jalops like us some wagons, yes sir we do. We also get a chubb over the occasional roid-raging V8. And Volvo's sexy-nerd persona has always received a nod of approval from the collected commentariat. Throw them all together into a single NPOCP and usually y'all need a cigarette and a shower after voting. None the less, in the case of yesterday's LT1-powered 740, there seemed to be some major discordancy. It did have the right number of pedals downstairs, and in the dyno video it made all the right kind of noises to engender piss shivers of delight. It must have been that price then, even though it was less than what one of Charlie Sheen's "dates" demands for an evening's company, and the car looks like more fun that that. Sorry Charlie. Regardless of the reason d'etre, that V8 Volvo went down to a dead even 50/50 tie, making it one for three for the blue cars this week.
We'll have to leave the streak at that because today's 1980 Porsche 911 slant nose, while rocking a blue interior and top, is supremely white everywhere else. That includes the exaggerated wheel flares and arcing fender line that replaces the standard 911's headlamps with a pair of sleepy-looking pop-up jobs. While described by the seller as a 1980 Porsche 911 TURBO SLANTNOSE-EXCELLENT CONDITION-MANUEL+CONVERTIBL, it doesn't actually have a forced induction motor dingle-buried in the back. Porsche, unable to defeat tightening U.S. emissions requirements through the application of massive amounts of oversteer, pulled the Turbo from the American lineup that year. Also, it should be noted that the Flachbau, the Europe-only factory slantnose 930, didn't arrive until '81. And now that I think about it, the 911 didn't start going fully topless until the '83 model year, so this car must have started its life as a Targa.
G/O Media may get a commission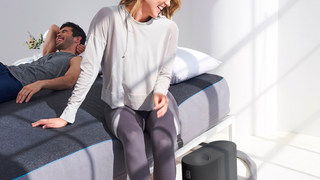 Eight Sleep Pod Cover
Despite the irregularities, the slant nose 911 is a good looking car, and this one's claim of having less than 10k on a rebuild of the three litre six makes it even more attractive. By the time these SCs were rolling off the assembly line Porsche had pretty much gotten the 911 formula down, making the '78 - '83 models some of the best of the breed. You should expect 180-bhp out of the 2,994-cc flat six, which originally was able to get the car to sixty in around 7 seconds. Sure that's not super car time, but then again, you're rocking a slant nose and probably will be wanting to put on your best David Caruso while you do so, which is not something done with haste.
One hopes that the seller has greater comprehension of this Porsche's condition than he does of the English language or the location of the CAPS LOCK KEY. Describing it as a slant knows may make the car seem wise, but it doesn't engender confidence, and his weak grasp of punctuation makes it hard to tell if it's a manual top, or there's a guy named Manuel that comes along with the car raising and lowering it.
So a few inconsistencies and questions about the car, but from what can be gleaned from the ad, this 911 is not without appeal, and the price - at a fin under fifteen - doesn't make the seller sound unreasonable, even if he is nearly unintelligible.
But what about that price for this car? They say the nose knows, and in the case of this Porsche Slant Nose, do you smell a sweet bargain, or just the sweaty effluence of Manuel the top guy?
You decide!
Tampa Craigslist or go here if the ad disappears.
Help me out with NPOCP. Click here to send a me a tip, and remember to include your commenter handle.