At motor shows, though usually in Tokyo, automakers from Toyota to Chevy frequently unveil very tiny concepts that, they promise, will definitely be produced some time in the future. Call them pod cars. And yet we still haven't seen one.
It's hard not to love them. They are some kind of insane combination of car, Segway, and trike. What are they for? Do we even need a pod car? The answers are, in order, "Who the hell knows?" and, "No." And yet. Automakers make hefty profits every year. Sure, they all seem to be abandoning smaller cars, but can we put at least one pod car into production? Mainly just to say we did it.
I mean, look at how the Toyota PM, which stands for "Personal Mobility" operates. The PM debuted at the 2003 Tokyo Motor Show. Did a PM ever make it into production? Hell no. Should it have? Hell yeah.
Here's how Motor Trend described it back then:
Calling it a "wearable" single-person vehicle, Toyota's PM "Personal Mobility" concept focuses on driver ergonomics so that the cabin and seat shape will fit the driver "almost like a glove." Its design steps away from more familiar shapes, and even includes antennae like headlamps making it look like some exotic life form. It features a variable "lifelike" posture, allowing the cabin and wheel structures to function separately, so the PM can vary its posture depending on speed, and to facilitate entry and exit. Inside, a floating virtual Space Touch holographic display senses driver finger position allowing touchless interface with vehicle data, interaction with other PMs, and additional info. Besides its unusual looks, it's a smart little bugger, able to communicate vehicle-to-vehicle with other PMs while they travel, so they can follow in platoons and rendezvous automatically.
But the PM is just the start.
Feast your eyes on the 2017 Toyota i-TRIL, which is sort of a different genre of pod car. It has four wheels, and could almost be considered something like a one-man smart car, but, really, this car is a pod car in spirit. It's too small and dumb to be anything else.
G/O Media may get a commission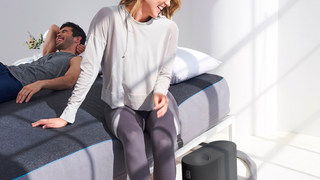 Eight Sleep Pod Cover
Inside, it's basically a spaceship.
And here's the 2007 Suzuki Pixy. If you think pod cars are coffin-like, you're exactly right. Would you feel claustrophobic in a pod car, though? No. Because pod cars are better than coffins. They have windows.
Looks cozy, I must say.
The Pixy, of course, was designed to fit inside another vehicle, which would take it and other Pixy's on longer-distance trips. The Pixy was unveiled in 2007 and was, literally, designed for the future. That future was 2030, when, if we're all still here we'll also have Pixys.
I mean, look at these guys move:
And then there's the Toyota i-Swing, which debuted in 2005 and which you controlled with a joystick. It was capable of two- or three-wheeled mode, the latter being for extra speed and fun. The i-Swing was designed to make you bionic.
Here's New Atlas on when it came out:
In addition to the joystick control, the i-swing can be controlled by body weight movements with a feeling reportedly like turning as if on snow skis. The i-swing concept proposes using Artificial Intelligence to enable it to learn the habits and preferences of users.

The single-person vehicle package boasts an individual design with a "wearable" feeling. Its low-resistance urethane body is covered in cloth to soften any impact while operating near people, and an LED illumination panel can be customized to display an image to suit your mood. When travelling in a bustling street full of people, the i-swing can operate in a two-wheeled mode that takes up little space, so that it is possible to travel while keeping pace and talking with someone on foot.
It's not surprising that Japanese manufacturers are really into the pod car, but more surprising is the one on the top of this post, which is my favorite. It is the GM EN-V Concept. Here it is again:
That looks like an overweight bumblebee. The EN-V was made as part of a collaboration with Segway, and actually, nearly, became a thing, with a version of it going into testing in China and concluding testing last year, logging over 50,000 miles in the process. And yet that appears to have just been for science. So close, yet so far away.