It's not often you see a Dacia, a Trabant and a Lada together in NYC, but when it happens, it's more surprising than spotting Raph with his Baja doing the Manhattan loop.
Believe it or not, the two-tone Dacia wagon is the oldest of the trio. It's a 1974 with a 1.3 four banger. The Romanians started building these Renault 12 copies back in 1969. This yellow wonder belongs to Eduard Palaghita and resides in the great state of New York.
Next in line is the Lada 1200 (VAZ-2102) from 1983, which is owned by a bunch of crazy Finns from the Lada Club Finland who took it coast to coast from California to New York this year. Quite a holiday!
G/O Media may get a commission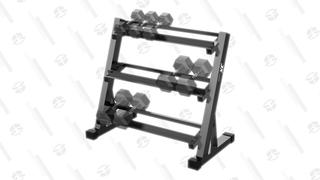 20% Off
JX Fitness Dumbbell Rack
Gains but tidy
Has a three-tier design to help store more weights more conveniently, can safely support up to 1000lbs of weight, which should be enough for most people, has a triangle base for stability, and also features anti-scratch feet which is great if you've built your own studio or workout in your garage.
There's (or at least there was until 2009) a Trabant 601 in London that was pretty much a daily driver. This one. I accidentally discovered where the owner lived, and I also saw the car parked at the same spot in the city center numerous times.
I'm not sure how often Andrew Burzynski takes his out for a spin in New York, but a 1985 Limousine sporting Zwickau's famous goose crap green paint definitely deserves plenty of sunshine. Here it is, getting some at 42nd St in Times Square wearing original DDR plates:
Of course when Andrew heard about the Scandinavian's ambitious plan with their glorious Lada wagon, the three had to join forces at the finish line.
Would you believe that the Trabant 601 is the most original design of the group? The Dacia 1300 is a Renault 12 built poorly using worn out tools. The Lada 1200 might have a different engine, gearbox, suspension and interior than the Fiat 124, but it's still looks the same.
The Trabant 601 is German engineering done when steel was a luxury they couldn't afford.
These mass produced liberators from the Eastern Bloc matured into great classics by now, so get some, they are cheap and fun. Plus more reliable than British roadsters, but of course that's pretty much a given.
Hat tip to Eduard Palaghita, the guys from the Hoponderos US Tour 2014 and Andrew Burzynski from the Eastern Bloc Cars Facebook group.