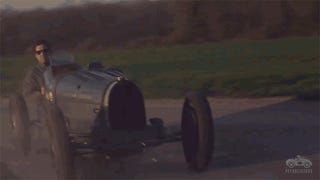 When your father's daily driver is an all-original Bugatti Type 38 — purchased by your grandfather for $120 from some gypsies in the outskirts of Paris — the family garage will be full of stories, that's for sure.
People will tell you how special Bugattis are, but one must really see Ettore's cars up close to see how special they are. Even better, see them at a race track in order to understand their significance. There's no substitute.
Yet after the war, Bugattis were practically worthless despite the Germans destroying enough of them to put some models on the edge of extinction. But Garage Novo made it through the hard times.
Its founder, Henri Novo was an uneducated man with exceptional mechanical talent and a passion for Bugattis, while his son, Jean is an expert of design who managed to fix up these complicated machines even without having the original blueprints at hand, because those only became available recently.
The business is run by Jean's son Fred now, who already has a daughter as well. Will Luo get the Bugatti bug just like the rest of her family?

Only time will tell. But I have a feeling she'll know how to tune a carburetor either way.
What's your dad's daily driver?
---
Contact the author at mate@jalopnik.com.