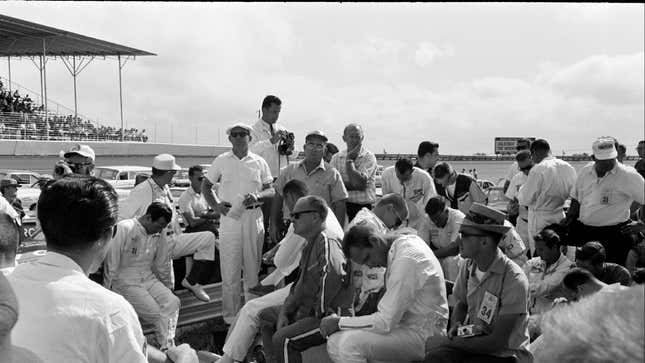 Darlington Raceway hosted the Southern 500 on Sunday, the Labor Day weekend NASCAR race as it's been since 2015, and for decades before that starting in 1950 as the first 500-mile NASCAR race. These days, Darlington is treated with respect even if it is a little past its old glory days, when it became part of NASCAR lore.
Like, on September 6, 1965, when Cale Yarborough went over the wall:
Yarborough, a South Carolina native, was not seriously hurt in the crash, and went on to have a legendary career in the sport, including three consecutive Winston Cup Series titles from 1976 to 1978. The cars were slower back then, but not that much slower, and the crash is still a little hard to watch these days, in the modern era of ever-increasing focus on driver safety. Back then it's what gave the track too tough to tame its name.
This is what NASCAR racing used to be:
Ned Jarrett, the father of Dale and Glenn, ended up winning the race by an astonishing 14 laps, the kind of thing that could happen in the era before restrictor plates. Jarrett said that he had God on his side, or at least a local minister.
The race was held on Sept. 6, Labor Day. At the request of a Darlington track official, Jarrett spoke to a Methodist youth group Sunday night before the race.

"I asked for their prayers," Jarrett remembered. "I went away with a genuine feeling that I had their support. The next day I was on pit road, and a gentleman walked up to me and introduced himself as a minister from Orangeburg, South Carolina. He told me that he had talked to Fireball Roberts before the race in 1958 and told him he felt like he was going to win, and he did. He said that he had the same feeling about me that day, and he wanted me to know that his prayers were with me.

"I was on cloud nine. I went into the race with a tremendous amount of confidence."
Yarborough later finished 17th in the 1968 Grand National Series, but he finished first at Darlington that year, his first win at a track only about 15 miles from the town where he grew up. Yarborough always said that it was the favorite win of his career, in a career of 83 of them.